Channar payesh is very popular dessert of Bengali cuisine. Tomorrow is Bengali New Year – poila boisakh, so I decided to make an authentic Bengali dessert for my family. Channar payesh is not so well known outside Bengal like rosogolla or misti doi. Even, not always available in all the sweet shops in West Bengal. Yet popular enough so that once the pilot of the plane I was boarded, reminded the passengers to enjoy this dessert before leaving Kolkata. Bengali sweets means, channa is the hero. In EasySteps2Cook I have already given some Bengali sweets, where channa is the main ingredient, like sandesh, rosogolla/kamla bhog. Chennar payesh is not always available in sweet shops. This is mostly prepared at home. So now I decided to give channar payesh recipe on the eve of Poila Baisakh as my tribute to this delicious Bengali dessert.
The basic difference between chenna (
ছানা
) and paneer is that chenna is the first step of preparing paneer. This is the lumps created while breaking milk with lemon juice. When chenna is kept into pressure to and solid chunks are created, this is called paneer. Chenna is mostly used in ewdgastern part of India including West Bengali, Assam, Bihar, Orissa. Paneer is more popular in northern and western parts of India.
Ingredients for making channar payesh:
Soaked saffron ½ tsp in 1tbsp milk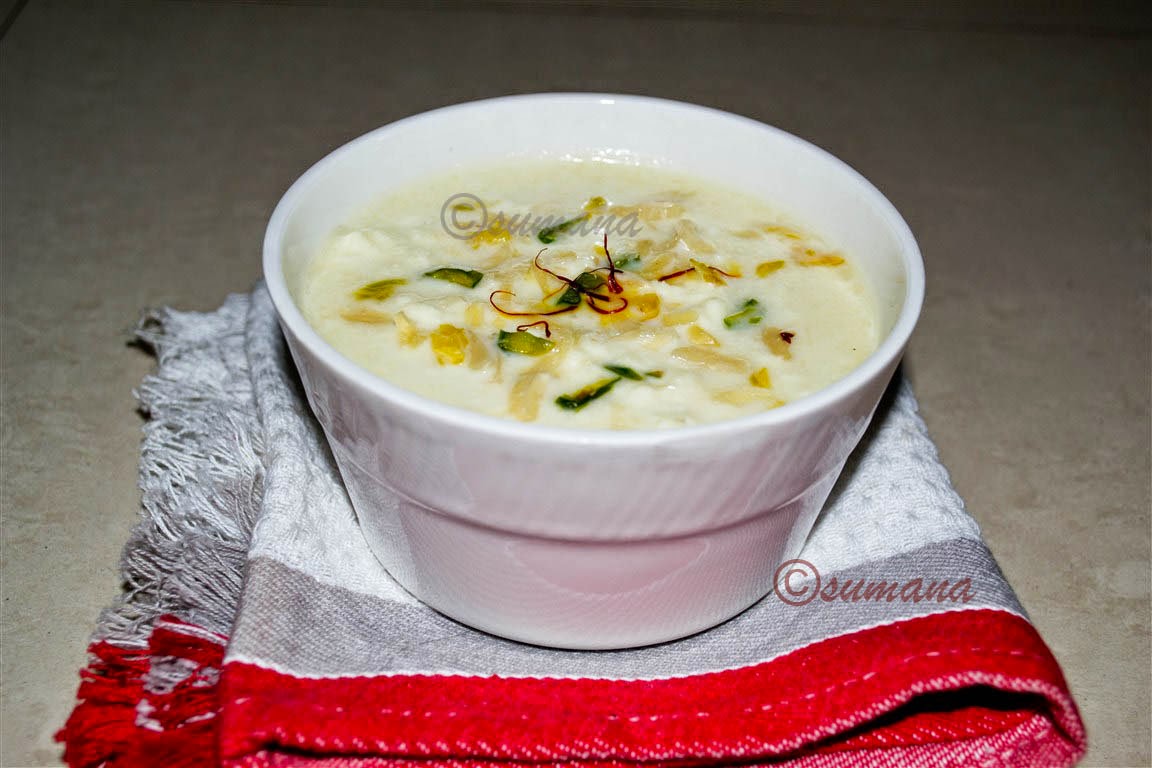 Channar Payesh
Method of making channar payesh:
In a vessel heat ½ ltr milk and then add a few drops of lemon juice. As a result the milk will break and turn into chenna (paneer) and will look like spongy lumps. Then strain water and keep chenna in a bowl.
Now heat the rest of milk in low flame and stir continuously. After sometime you will notice the milk has become thick and add sugar. Now add a pinch of cardamom powder and continuously stir it. Add saffron and turn off the oven.
Keep it aside and allow cooling down to room temperature.
After that, add the channa which you have already made …and mix gently. It is better to add chenna in the milk when it cools down to room temperature otherwise there will be risk of breaking down the milk due to its acidic property.
Garnish with some chopped dry fruits like almonds, pistachio.
For more Bengali sweet recipes click on the following links:
Rosogolla