This wrap or roll whatever you can say, me and my husband is ready to eat any time. This is a Mediterranean food and is like one pot meal. One roll is normally enough for a meal.
Shawarma, doner kebab, durum, gyro are all same thing with very minor differences in how they are served. This is believed to be a Turkish way of making kebab which spread around different countries in Europe and Middle East and got different names. It is very interesting to know the history of this food and how it got different names in different countries based on their style of pronunciation and way of serving this. I found an interesting article in the following link:
https://www.quora.com/Whats-the-difference-between-gyros-shawarma-d%C3%B6ner-kebab
Doner is derived from the Turkish word "

dön-mek

" which means 'spins'. That is why traditionally it is cooked in a rotisserie either vertically or horizontally.
At home, it is quite difficult to follow the original style of stacking up meat slices one above the other and then shred them as they are cooked in vertical cooking element. This is primarily served in pita bread, but I used wrap. So I followed a simple recipe as follows: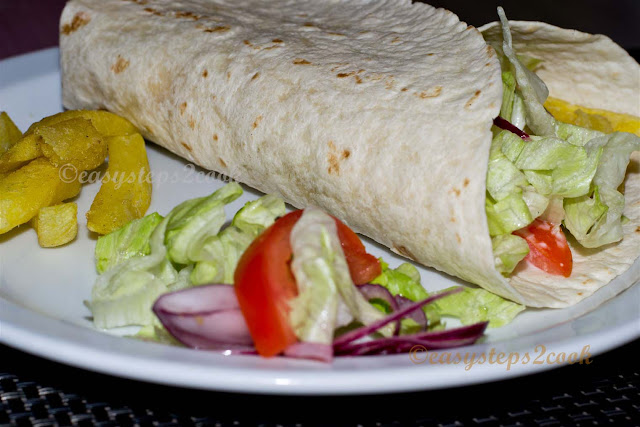 Chicken Shawarma Wrap
For
Doner Kebab
Ingredients:
Chicken minced – 200 gms
Garlic minced – 1 tsp
Ginger paste – ½ tsp
Red chilli powder – ½ tsp
Garam masala powder – ½ tsp
Cumin powder – 1tsp
Salt
Milk – 3 tbsp
Black pepper crushed
Chopped coriander leaves
Corn flour – 1 tbsp
Egg – 1 (optional)
Oil – 2 tbsp
Recipe:
Take a mixing bowl and mix all the ingredients except milk, corn flour and oil.
Mix very well and now add milk and mix it.
Then add 1 tbsp oil and mix.
Now add corn flour as per your necessary to bind the dough.
For 1 hr keep aside this dough.
From this dough divide two portion and make 2 kebab because this proportion is for two wraps.
Grease the grill pan or whatever you have with remaining oil and grill the kebabs.
You can do in microwave.
Garlic Sauce:
Ingredients:
Yogurt – 150 gms
Crushed garlic – 1 ½ tsp
Salt
Lemon juice – 1tsp
Water – 1 tbsp
Sugar – 1 pinch
Crushed black pepper
Recipe:
Take all the ingredients in a bowl and mix very well.
Salad:
Here I have used tomato, cucumber, sliced onion, carrots and lots of lettuce.
For Roll
Ingredients:
Wrap
French fries
Recipe:
Take a wrap and sprinkle some sauce with spoon.
Cut the kebab into bite size and keep on the sauce,
Put some French fries and salad.
Again sprinkle some sauce and wrap it.
Your Shawarma Wrap or Durum is ready to eat.