Chettinad chicken is the classic Indian chicken curry recipe originated from the Chettinad region of India. The specialty of Chettinad cuisine is the use of freshly ground masalas.
Ingredients:
Chicken- 750gms
Chopped onion - 3 medium
Ginger-garlic paste - 1tsp
Tomato puree - 1tbsp
Curry leaves - 10/12 pcs
Salt
Turmeric powder- 1tsp
Red chilli powder- 1tsp
Vegetable oil - 1/2 cup
Garam masala powder - 1tsp
For masala:
Grated coconut - 2 tbsp
Clove - 4/5
Cinnamon - 2 inches
Cardamom - 4/5
Poppy seeds - 1tsp
Fennel seeds - 1tsp
Cumin seeds - 1tsp
Coriander seeds - 1tsp
Dry red chilli - ¾
Ginger - ½ inch
Garlic - 2 cloves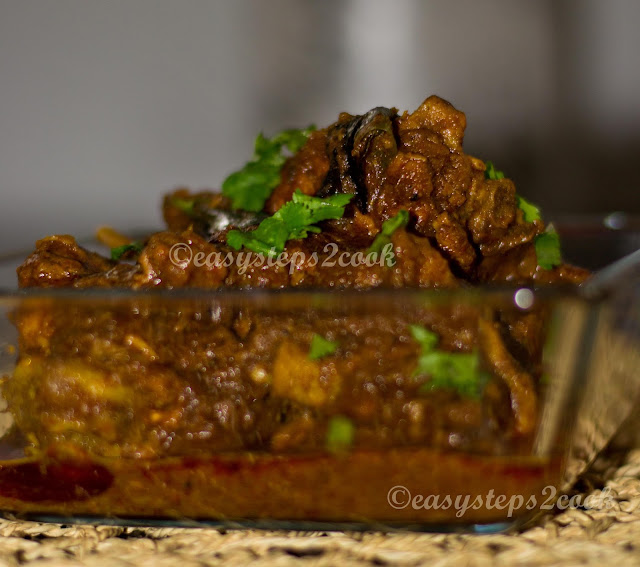 Chettinad Chicken
Recipe:
Marinate the chicken with ginger-garlic paste, ½ tsp turmeric and 1tsp red chilli powder.
In the meantime take a pan and dry roast all spices.
Roast very carefully otherwise coconut will burn, roast till it turns golden.
Now put all the roasted spices in a blender and blend very well. You can add little water if needed. Keep aside when done.
Heat oil in a pan and add chopped onion, fry it till golden.
Then add tomato puree and mix it.
Add the roasted spice mix and remaining turmeric powder and stir it very well till oil comes out.
Now add marinated chicken and mix well with the spices.
Add salt and garam masala powder.
Add water and cover with a lid for 10-15 minutes till the chicken becomes tender.
Serve with rice, naan or anything that you like.