Hara Bhara Kebab is very popular veg starter in India, especially North India. This kabab is available in almost all decent restaurants in India and is a must have for all veg lovers. This is very mouthwatering and made by some green vegetables like spinach, green peas, coriander leaves, potato and paneer. In this recipe spinach and green peas are hero. Hara bhara kabab is a very healthy dish because of its ingredients. In this recipe I have shallow fried the kebabs but you have one more option, deep fry it. Actually me and my family like the aroma of smoke so I chose the first option; means shallow fry.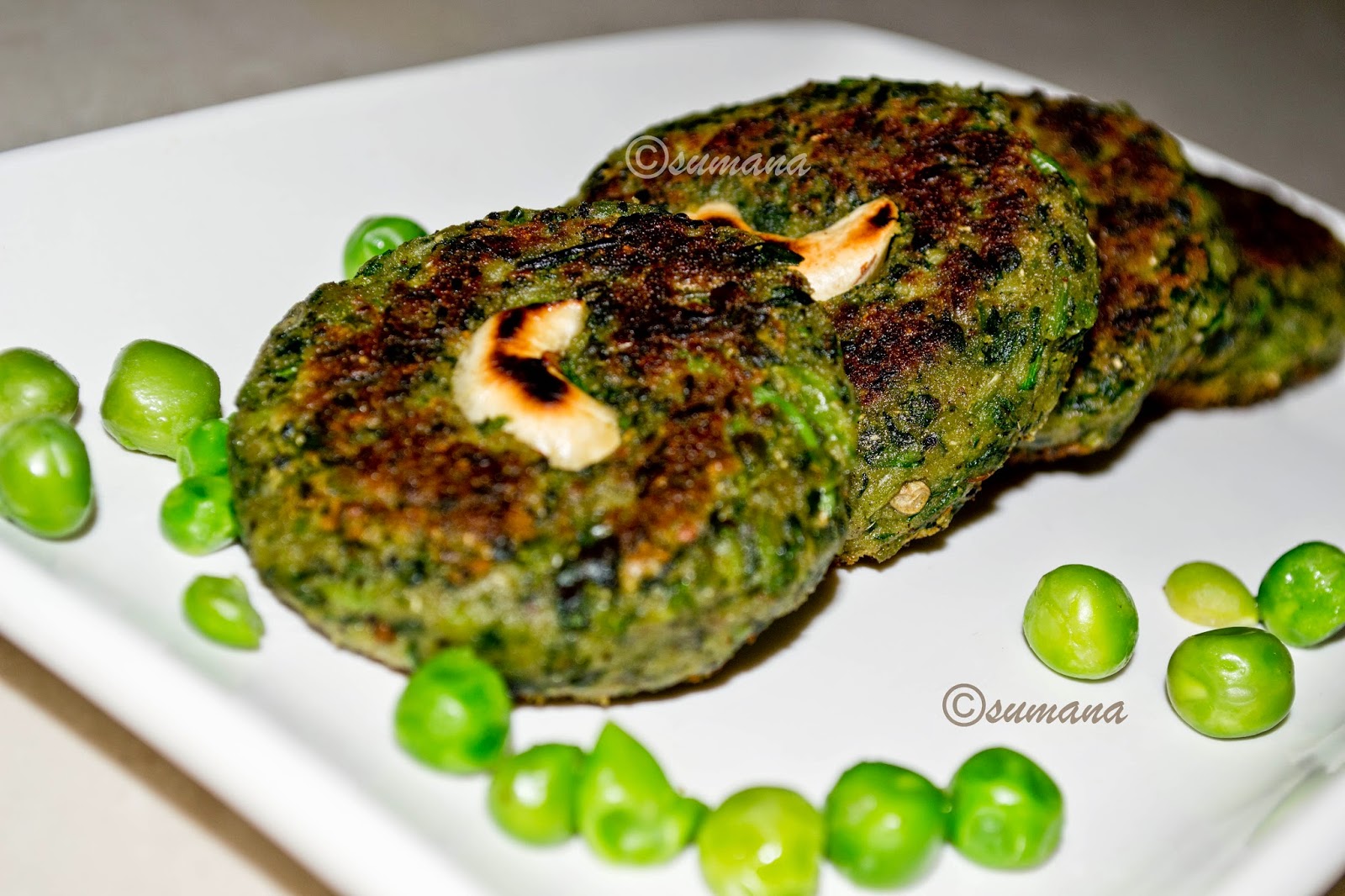 Hara Bhara Kebab
Ingredients for hara bhara kabab:
Chopped green chilli – 1 tbsp (according to your taste)
Chopped coriander leaves – ½ cup
Garam masala powder – 1 tsp
Bengal gram flour (chattu) – 4-5 tbsp (as required)
Ingredients for green chutney:
Steps of Hara Bhara Kebab
How to make hara bhara kababs:
Blanch the spinach and green peas and strain the water. Keep aside.
Now chop the spinach.
Take a large mixing bowl and smash the spinach and green peas. Then add boiled potato, paneer and ginger paste.
Then smash all these ingredients and add green chilli and coriander leaves and mix it.
Then add all the spices like coriander – cumin powder, garam masala powder, dry mango powder, chat masala and salt. Mix it very well.
Now add Bengal gram flour and make dough. This ingredient will be used for binding. Mix very gently and make smooth dough.
Then from this dough make 24 balls and turn them into kebab shape with your palm (ie. flatten the balls). Now put half a cashew nut on top of the kebabs.
Now take a tawa or fry pan and brush some ghee. Heat it and place the kebabs.
Keep it till golden brown and flip off the kebabs and fry the other side.
If you want you can deep fried it.
Your Hara Bhara kebabs are now ready. Serve hot with green chutney.
Recipe of green chutney:
Take all ingredients of green chutney and blend it to make a smooth paste. Now your green chutney is ready also. If you like you can add some garlic in the chutney.