Me and my family is in love with anything grilled - be it chicken, fish, broccoli or pineapple. Today I made
grilled
chicken in pan and prepared white sauce to spread over it. Along with this I made vegetables tossed in high flame to accompany with chicken. I also cooked spaghetti to make it a complete meal. Let me know if you like the recipe. Happy cooking
J
Ingredients:
Yogurt – ¾th cup
Chopped garlic – 1 ½ tbsp
Herbs – as per your choice
Red and yellow bell pepper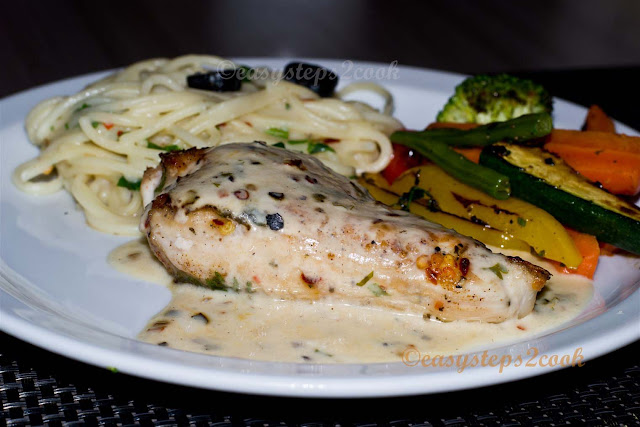 Pan Grilled Chicken With Vegetables And Spaghetti
Marinate the chicken breast piece with salt, crushed black pepper, ginger garlic paste, lemon juice and keep aside for 30 minutes.
Boil the spaghetti as per packet instruction and reserve the boiled water what you will get from spaghetti.
****Always reserve the water after boiling pasta. It enhances the taste if used in cooking.
Grease a nonstick pan and heat very well.
Cook one side of the chicken in high flame for 4 minutes, then flip off and cook the other side for same time.
Place your grilled chicken in a serving plate.
Now it's time to make the sauce.
Heat 1 tbsp oil in a pan and put chopped garlic.
When you get the nice aroma from garlic switch off the gas and add herb (here I added fresh parsley), chilli flakes, salt, crushed black pepper and mix.
Then add yogurt and mix it well.
Just pour it in the grilled chicken.
In the grill pan, put the vegetables and toss it in high flame with herbs, salt and pepper.
After 2 minutes place it in serving plate.
Now make the spaghetti.
Heat oil in a pan and put chopped garlic and stir it.
Add 1tbsp flour and stir it occasionally.
Add the water that you reserved from spaghetti and continuously stir it, don't allow to form lump.
Add spaghetti, salt, pepper and mix it very well.
Add cream and mix well in low flame.
Add chopped black olives and serve with grilled chicken.