This is a very yummy snacks recipe. First time I made for my daughter's evening snacks and she liked it. Then I decided to make for one potluck party and there it was finished just like a hot cake. Not only kids', elders also liked it. Then I decided to share in my blog. Most importantly it is very healthy and low calorie snacks because it is baked and made with lot of vegetables.
Actually "canapé" is a small piece of bread with some savory toppings, served with drinks at party. This is generally a cracker topped and a type of finger food.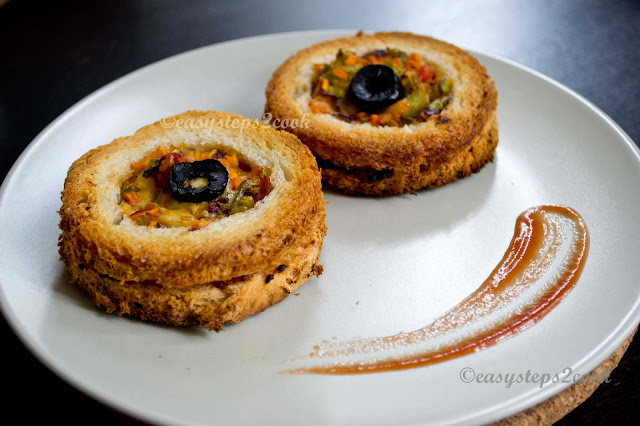 Mixed Vegetables Bread Canapes
Ingredients:
Bread slices – 12 pcs
Chopped onion – 1tbsp
Chopped tomato without seeds – 1 tbsp
Chopped capsicum – 1tbsp
Chopped carrot – 1 tbsp
Sweet corn – 1tbsp
Chopped parsley – 1tsp
Chilli flakes – 1tsp or as per taste
Black pepper powder – as per taste
Salt
Grated cheese – 4/5 tbsp
Butter – 1 tbsp
Tomato ketch up – 3tbsp
Oregano – ½ tsp
Black olives – 6/7 slices
Oil – for brushing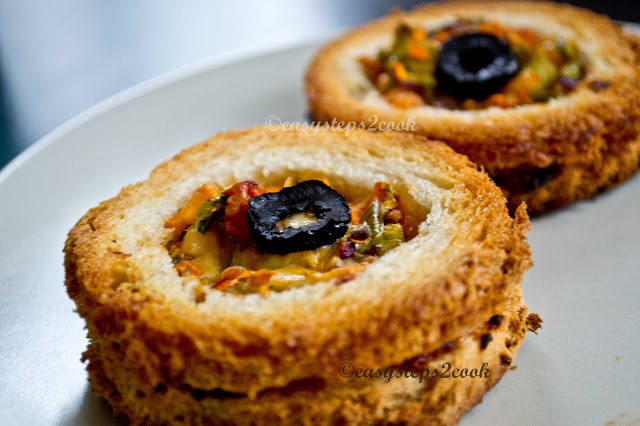 Mixed Vegetables Bread Canapes

Recipe:
1.
Take a bowl and put butter, 1tbsp tomato ketch up and grated cheese 1 tbsp and mix together. This is the spread.
2.
Take another mixing bowl and put all chopped vegetables, parsley, chilli flakes, pepper powder, salt, oregano and mix well. This is the filling of canapés.
3.
Now cut the bread slices in round shape with the help of a sharp edge glass or bowl or cookie cutter if you have.
4.
Now take half of the slices and cut the middle of the piece in round shape with the help of a smaller cookie cutter or sharp edged bowl. This will look like donut or a disc with a whole.
5.
So you will get six pairs from 12 bread slices. Each pair will have once round shaped slice and one donut or disc shaped slice.
6.
Take one bread slice and spread the ketchup – butter spread prepared earlier.
7.
Now keep one disc slice on the bread and put some filling in the middle of the disc. Just lightly press once with your palm from top otherwise there will be a chance to detach both slices.
8.
Make more 5 canapes like this way.
9.
On the top of the canapes put some grated cheese and place an olive slice.
10.
Now brush some oil on the edges of the bread.
11.
Bake them into 200c preheated oven for 8/10 minutes or till the breads turn golden.