Last Sunday my husband bought so much of fruits from market including lots of pears. And I am absolutely clueless what can I do with all these fruits. So I decided to make some salad with pears. This pears salad had an amazing taste. Not like a typical salad. It was little tangy on the other hand little sweet. And when I was putting lemon juice, got an idea and put little bit of lemon zest also and I think these ingredients make this salad more tasty.
Ingredients:
Black olive slices - 1tbsp
Ingredients for dressing:
Salad seasoning mix - 1tsp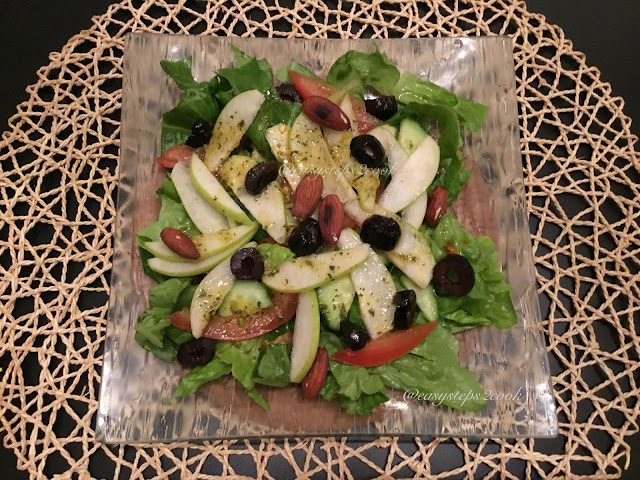 Pears Almond Salad
Recipe:
Take a mixing bowl and put all ingredients for dressing.
Mix all of them together and keep aside.
Your salad dressing is ready.
Now cut cucumber and pears into slices.
Cut tomato into julienne cut, if you have cherry tomato use that. It will look better. I didn't have at that time, so I couldn't use.
Now take a serving plate and make a bed with lettuce.
Then put cucumber - pears - tomato - olive slices.
Sprinkle the dressing on top of the vegetables.
Lastly add roasted almond.
If you want to make this salad you can make it early but don't put almond. Add almonds just before serving, otherwise the almonds will loose their crunchiness.