Bengalis are fond of different type of chops - aloor choop (potato fritters), onion fritters,
vegetable chop
,
dimer chop or egg devil
, fish chop or macher chop etc.
Hot chops and tea with a group of friends and relatives is the ideal way of spending evenings after a hard working day or even after a lazy afternoon siesta on holidays.
Fish has a special place in Bengali

cuisine

. So it is obvious there will be fish chops when we are discussing various types of chops from Bengali food habits. Fish fry can again be of many types and is made of different types of fish. Today I would like to share my recipe of fish chop that I made on a chilly winter when a couple of my friends came to visit our place. This is prepared with a normal fish.
To make it clear to all, fish chop is different from fish fry. See the different type of fish fry recipes from my blog.
Ingredients:
Ruhu or katla fish – 10 pcs
Chopped onion – 2 medium
Ginger-garlic paste – 2 tsp
Chopped green chilli – 1tsp
Chopped coriander leaves – ½ cup
Salt
Turmeric powder – 1 pinch
Bread crumbs – 200 gms
Egg – 1
Red chilli powder – 10 pcs
Cumin seeds – 2 tbsp
Cloves – 10 pcs
Green cardamoms – 10 pcs
Cinnamon – 2 inches
Bread without side – 4-5 pcs
Regular flour – ¾ tbsp
Oil – 2 tbsp
Oil for deep-frying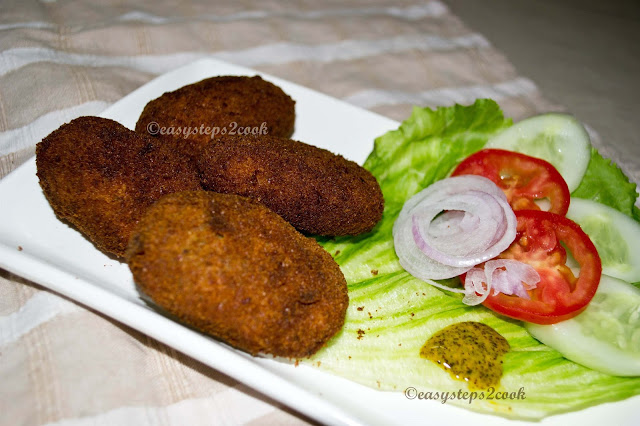 Recipe:
Marinate the fish pieces and boil it till cook.
In a pan dry roast the whole spices like cumin seeds, dry red chilli, green cardamoms, cloves and grind it. Grind it till it becomes like powder and keep aside with a lid for aroma.
Now take the boiled fish and smash it. At this time remove the skin and bones.
Heat 2 tbsp oil in a pan and put the chopped onion and sauté it.
Remove from heat and add the fish. Then add ginger-garlic paste, chopped green chilli, coriander leaves and salt and mix it.
Now add bread slices and mix it very gently. These bread slices help to bind the dough.
Then add the powdered spices and mix very well to make a dough.
Make some balls from this dough and give shape as per your choice, I made here oval shape.
Take a bowl and beat an egg with a pinch of salt.
Take some regular flour in a plate and roll each chop to coat with flour.
Now dip the flour coated balls into beaten egg.
Take bread crumbs in a flat plate and role all the balls nicely, make sure all balls coated nicely with crumbs.
Heat oil in a pan for deep frying and fry them till golden brown.
Serve hot with salad and tomato sauce or kasundi (Bengali mustard sauce). I always prefer kasundi.
**If you want you can make the chops early and keep in refrigerator. Whenever you need just take it out of the refrigerator and fry them.
**If you use regular flour, chops will consume less oil. Whenever you make any deep fried starter which will be coated with bread crumbs or anything else, try to coat them with flour first.