Grilled fish recipe|Grilled Bhetki Recipe|Tawa tossed vegetables
I love grill and not only me; my whole family loves grill. The aromas of grilling chicken or fish attracts me so much that wherever and whenever I get the aroma, I start filling hungry.
J
This grilled fish recipe is very easy and you can make it in a jiffy. Actually I love to cook those dishes which are very simple and easy; even a novice can prepare it. My second priority is time. I like recipes which can be prepared in a jiffy as nowadays no one has enough time to go for a lengthy procedure.
And for this recipe if you think you a grill pan is must to get the nice dark stripes of grill, you can very well use grill pans available in the market. But you do not have a grill pan, not an issue. I have a trick to get grill mark without grill pan. Take a nonstick pan and place 2-3 wooden ice-cream sticks and place the fish pieces. When cooking is finished; you will get the same grill marks in your fish fillet.
Any good fish fillets can be grilled. Here I have used bhetki fillets as this is one of my favorites. Though salmon can be irresistible, it is not widely available in India. Sole fish is also very widely used in Indian restaurants. Pomfret/paplet is commonly used here for grilling whole fish. To view my pan fried tandoori pomfret recipe, click Pan fried tandoori pomfret.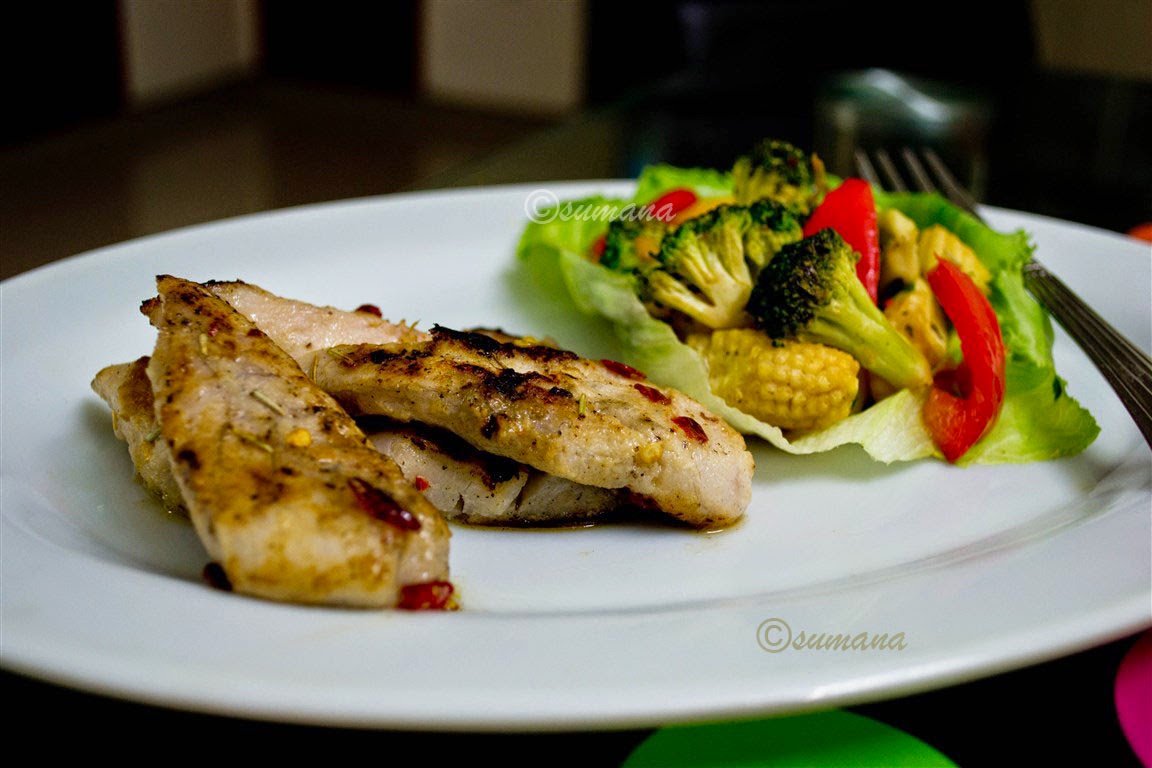 Grilled Fish With Tossed Vegetables
Grilled fish recipe:
What you need to make grilled fish:
Fish fillet (bhetki) – 4 pcs
Ginger-garlic paste - 1tsp
How to make grilled fish in tawa with tossed vegetables:
Ø
Take all vegetables and cut them into uneven shape.
Ø
Now take a mixing bowl and mix the oil, ginger-garlic paste, chopped celery, salt, chilli flakes, honey, and lemon juice. Marinate the fish in the mix for 15-20 minutes.
Ø
Now take a pan and place it over the gas and heat it. Then place the marinated fish fillets in the pan in high flame. After 2-3 minutes, carefully flip the fish using a spatula with thin edges.
Ø
Cook the other side for 2 minutes. Now shift the fish from the pan.
Ø
In the meantime, when the fish is in the pan, put the vegetables except lettuce into the same mixing bowl where you marinated the fish fillets. Now put the vegetables in the pan in high flame and toss it for 2-3 minutes.
Ø
Now take a serving plate and place the fishes. Place the vegetables and lettuce on the other side of the plate.
Ø
Your dish is now fully ready to serve.
NB: An important point to remember is that it takes very little time to grill fish. So keep checking the doneness. The fish should be properly cooked but not over cooked. If it is overcooked it will be tough and will break.