Zucchini Fritters is one of my daughter's favorite snacks. She is always ready to eat it. And I am also ready to make this because this is very healthy, tasty as well as low calorie. It is really very easy to make with very few ingredients. If u r vegetarian u can avoid the egg. If you are not calorie conscious you can make it deep fried but as per my recipe it is pan-fried because me and my family like it.
Ingredients:
All-purpose flour – 2 tbsp
Herbs – as per your choice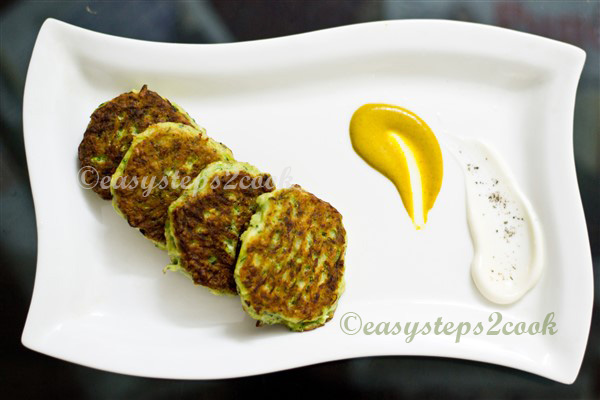 Zucchini Fritters
Recipe:
Grate the zucchini first and keep in a large bowl with pinch of salt. Keep aside for 15/20 minutes.
Now squeeze out the water from zucchini with your palms.
In a mixing bowl put the zucchini and add an egg, salt, crushed pepper, chopped garlic, 1 tsp olive oil, any herbs and mix it.
Then add corn flour and all-purpose flour and make a dough, consistency like cookie dough.
Grease your pan with remaining oil and heat it. Take small portions of the batter and put it in the pan while giving a circular shape like fritters. Cook for 2/3 minutes. Then flip off and cook the other side.
Serve hot with mayonnaise or English mustard sauce.