Bengalis wait thrgoughout the year fir the rainy season for Hilsa or Ilish to arrive at the market. Hilsa is the most popular fish in Bengal for its aroma and flavor. Traditionally Bengalis stick to their Sorse Ilish (Hilsa in Mustard Gravy) or Bhapa Ilish (Steamed Hilsa) which really has no comparison with any other recipe when savored with hot steamed rice. But Hilsa in Curd Gravy is also becoming popular in Bengali kitchens. Earlier I have also tried Butter Hilsa. This time I was thinking of trying something completely different and came with the idea of preparing hilsa in continental style with herbs, olive oil, mayonnaise and cheese. This turned out to be really good and is an instant hit at my home. Find below the recipe and let me know how you feel about it.
Ingredients:
Mozzarella cheese – 1 tbsp
Chopped parsley or any herbs as you like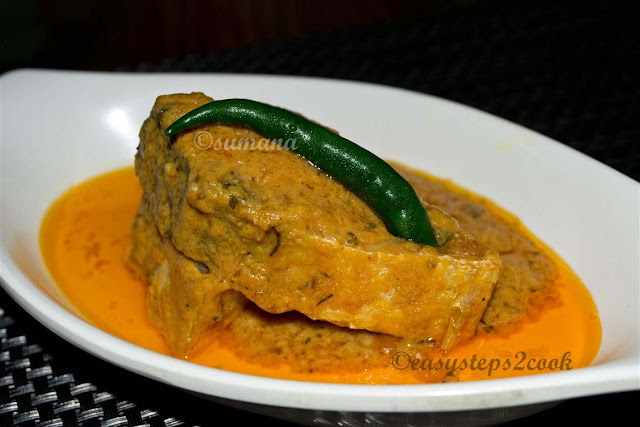 Hilsa with Herbs - a fusion of Bengali and continental flavors
Recipe:
Marinate the fish with salt and lightly fry it in olive oil, shift from the pan and keep aside.
Now take a bowl and mix mayonnaise, grated cheese, tomato sauce, pinch of sugar, mustard sauce and beat it very well.
In the same oil (in which you fried the fish), put this cheese – mayonnaise mixture and stir it occasionally for around 1 minute and add salt.
Now add that fried fish and add ¼ cup of water.
Wait for 2 minutes and sprinkle some chopped parsley or any other herbs and serve hot.
In this recipe I used dried parsley because at that moment fresh parsley was not available in my kitchen.
Serve with plain rice or any Indian bread.
Please let me know how you feel. Happy cooking
J