Saru chakli|Soru Chakli Pithe Recipe
Soru chakli pithe is another Sankranti special dish from Bengal. Poush parbon being a three day affair of Bengalis, a variety of pitha is prepared – puli pithe, soru chakli, patisapta, gokul pithe, dudh puli, chirer puli. Saru chakli serves the purpose of main course for a Sankranti dinner and is normally served with Aloor dum recipe.
Saruchakli is a kind of pancake, basically Indian version of pancake. It is like famous south Indian dish dosa between ratios of ingredients. The preparation of dosa is a long process as it requires fermentation. But it requires much less time to make Bengali Saru chakli.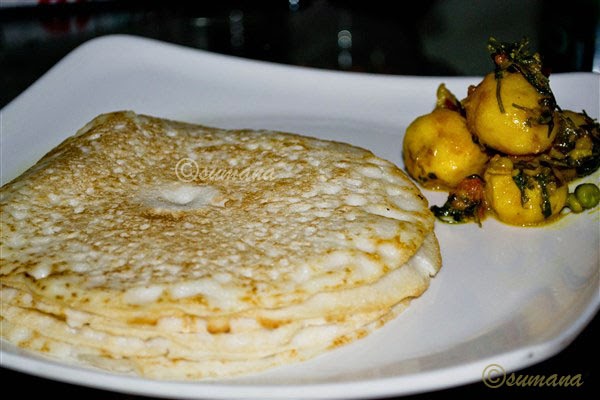 Soru Chakli
Soru chakli recipe
Ingredients:
Biulir dal/Urad dal – 1 cup
How to make soru chakli:
Soak rice and urad dal for 5-6 hrs. Then grind the soaked rice and dal to make a paste. Don't pour water in the grinder initially. If required, pour little bit of water in after a while. If too much of water is poured in the grinder initially, the paste will not be smooth.
Now take a large mixing bowl and add salt and water in the paste to make a smooth batter. The batter should not be too runny. Some people use rice powder to make the batter but I don't like to use this for soru chakli. Personally I feel, instead of using rice flour, if the paste is prepared from rice, it enhances the taste and also helps to remove it from the pan easily, which is a bit tricky process. Though I am not sure, but the reason might be the small granules that still remain when you grind it at home using grinder.
Put a non-stick pan on heat and grease with white oil. I used the silicon brush available in the market to grease the pan. But traditionally this is done by the stem of a cut eggplant. Pour batter on the tawa with one medium size ladle and swirl it to spread just like pan cake. When one side is cooked, turn it over to cook the other side.
Serve soru chakli with aloor dum.
View my other Sakranti special recipes at