Malwani Mutton (or malvani mutton) is a medium spicy mutton curry prepared in malwani style. This is one of the special dish from Maharastrian cuisine.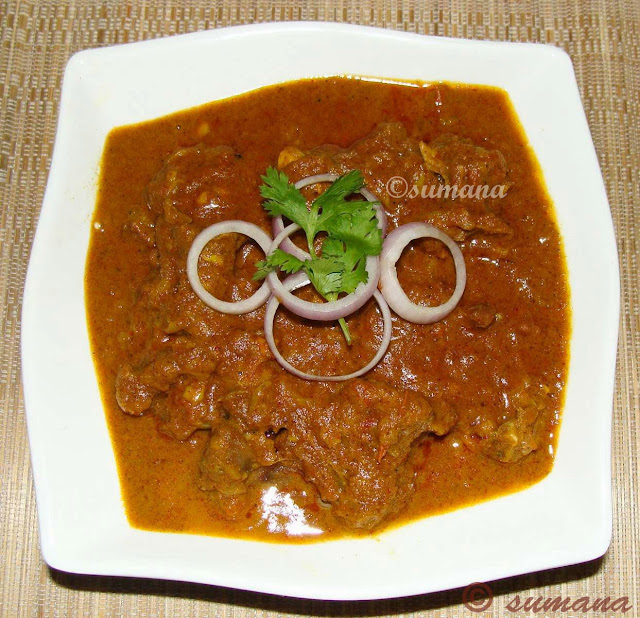 Malwani Mutton
Malwani Mutton - Ingredients:
Mutton - medium pieces 500 gms
Curd – 4 tbsp
Sugar
Salt
Grated coconut – 2 tbsp
Sliced onion - 2 medium
Ginger paste – 1 tsp
Garlic paste – 1 tsp
Turmeric powder
Chopped tomato - ½ cup
Chopped coriander leaves
Cumin seeds – 1 tsp
Coriander seeds – 1 tsp
Poppy seeds – 1 tbsp
Pepper corn – 15 pcs
Dry red chilli 3-4 pcs
Caraway seeds – 1 tsp
Green cardamom – 4 pcs
Cloves – 4 pcs
Cinnamon – 1 inch
White oil
Malwani Mutton - Recipe:
At first dry roast grated coconut, cumin seeds, coriander seeds, poppy seeds, pepper corn, dry red chillies, caraway seeds, green cardamom, cloves and cinnamon and grind it. Keep aside with a lid.
Marinate the mutton with curd for 1 hour. Then heat oil in a pan and put little bit of sugar. After 1 minute when it is caramelized, add sliced onion and fry it till brown. Then add ginger-garlic paste and fry it. Now add the marinated mutton and continuously stir it for 10-12 minutes. Then add turmeric powder, salt and roasted spices and mix well. Now add chopped tomato and mix. After 2 minutes when the tomatoes are soft and oil is separated from mutton, shift it in a pressure cooker. Then add 1/2 cup of warm water and cover it. Now keep it in high flame for 5 minutes and then keep in low flame for 10-15 minutes. When the mutton is properly cooked, take out from flame.
Malwani mutton is now ready. Garnish with chopped coriander leaves and serve hot. This spicy mutton curry goes well with pulao, rice, roti, paratha…everything.