Mutton Kasha
Mutton Kasha (aka Kosha Mangso) is a traditional Bengali dish. This mouthwatering mutton curry is a bit spicy. Authentic mutton kosha does not require water and is cooked in low flame for a long time to make the meat very soft. As people do not have much time these days, pressure cooker is used to quicken the process. Also a little bit of water can be added if you want more gravy.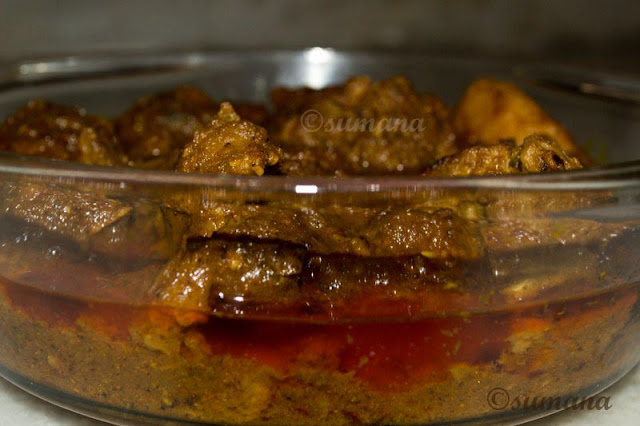 Mutton Kasha
Ingredients:
Mutton medium pieces
Sliced onion
Onion paste
Garlic paste
Ginger paste
Coriander powder
Turmeric powder
Red chilli powder
Salt
Sugar
Curd
Garammasala powder
Bay leaves
Mustard oil
How to cook Mutton Kasha:
Marinate the mutton with curd for 3-4 hrs. Take oil in a pan and add bay leaves, little bit sugar and a pinch of turmeric powder. Now add sliced onion and onion paste and fry till golden. Then add ginger-garlic paste and fry it. After 2 minutes add marinated mutton and mix it. Now add salt and all spices. Stir well till the oil is separated from mutton. Now shift it into a pressure cooker and cover the lid. Wait for 10-15 minutes or until the mutton softens.


Serve hot with rice, pulao, roti, paratha, puri or anything you wish.