Sandesh is a famous Bengali sweet. And this time I am presenting it with famous Belgian chocolate. Out of Kolkata it is very difficult to get good sandesh in shops but you can make it on your own and relish with your family. Already I had shared few famous sandesh recipes with you. Now time to share something different. Currently I am in chocolate country Belgium. So I tried some fusion with sandesh and Belgian chocolate. Actually few days back one of my friend suggested me …"when you are in Belgium, you should try some fusion with Belgian chocolate and our sandesh". And I really liked his words. As a result I tried it and this came out mind-blowing. Thanks to my friend for that wonderful suggestion.
Now your turn, please try it and I am also waiting for your feedback.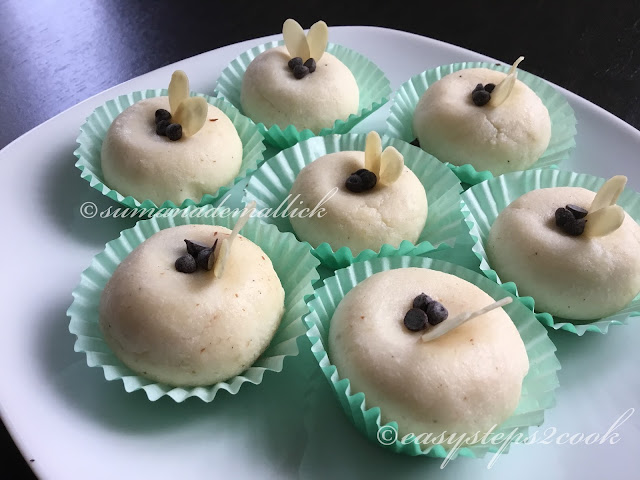 Chocolate Truffle Sandesh
Ingredients:
Milk
– 1 ltr
Sugar – 2/3 cup
Lemon juice – 2 tsp
For truffle:
Choco chips or any plain chocolate bar (without dry fruits) – 100 gms
Fresh cream – 50 ml
For decoration:
Choco chips
Dry fruits
Heat milk in a vessel and then add a few drops of lemon juice. As a result the milk will scramble and turn into chenna (paneer or cottage cheese) and will look like spongy lumps. Then strain water and keep chenna in a bowl. Now add sugar and mix it very well to make a smooth creamy texture. Now put it in a non -stick pan and stir in low flame for 5 minutes. When the dough is separated from the pan remove it from flame. Now keep it in a plate. Mix it very well. The dough should be used immediately to make round shapes of sandesh.
How to make truffle:
Take chocolate bar (I have used choco chips). Then heat 50 ml fresh cream in a pan but do not boil it. So the ratio I used for truffle is 2:1 for truffle. Now take a pan with some water and keep a bowl on the pan, the bowl bottom can touch the water. This process is called double boiler. Put chocolate in the bowl and heat it in low flame. As a result chocolate will melt and add fresh cream. Stir it. Now truffle is ready.
Now you have to stuff the truffle in the sandesh. This process is just like kachori or other stuff recipe. Take a sandesh and make a hole and put some truffle and again make round sandesh with help of your palm. Decorate with some chocochips and dry fruits.
When you give round shape to the sandesh after stuffing, please be careful and use your clean hand otherwise chocolate will be smeared on sandesh and obiviously it will not look good.