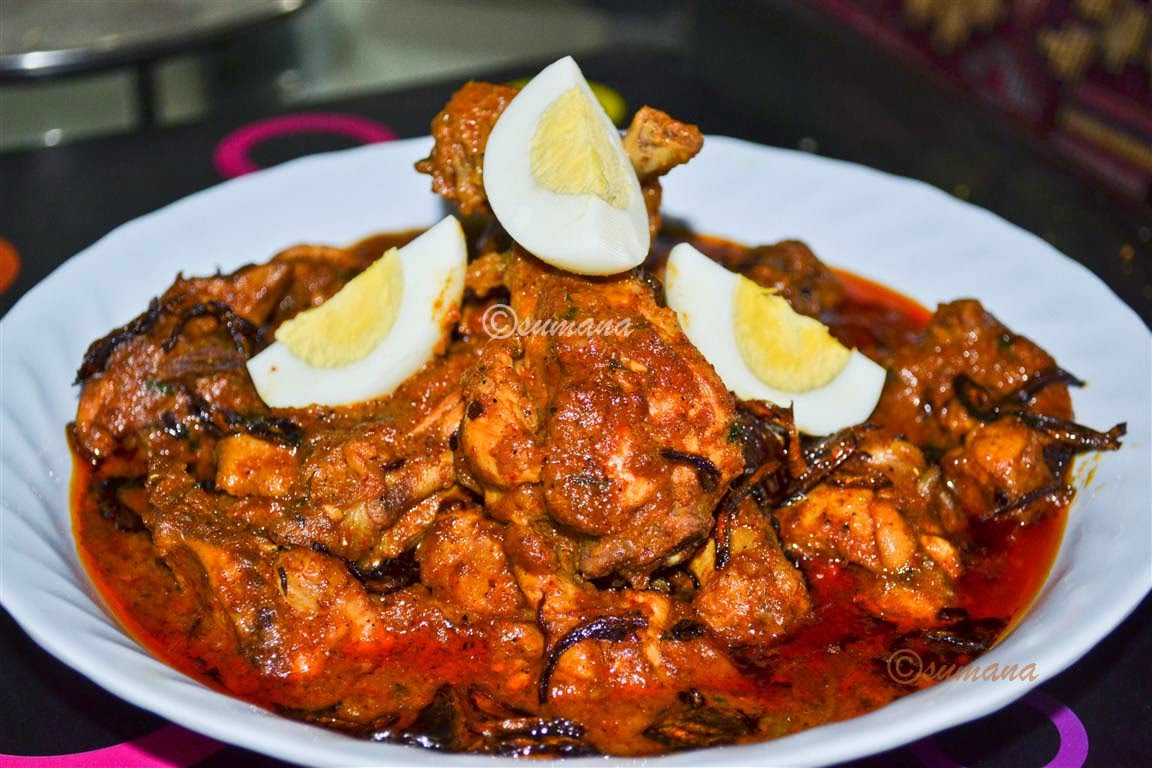 Chicken Korma
Ingredients:
Chicken – 750 gms
Curd – 4 tbsp
Finely sliced onion – 1 medium
Onion paste – 3 medium
Garlic paste – 8 cloves
Ginger paste – 1 tsp
Cumin powder – 2 tsp
Coriander powder – 2 tsp
Black pepper powder – 2 tsp
Turmeric powder – 1 pinch
Kashmiri red chilli powder – 1 ½ tsp
Salt
Sugar
Garam masala powder – 1 tsp
Chopped coriander leaves – ½ cup
Ghee – 2 tsp
Rose water – few drops
White oil – 6 tbsp
Recipe:
Marinate the chicken with curd and one pinch of turmeric powder and keep aside for an hour.
Then heat oil in a pan and fry the sliced onion till golden brown. This is called beresta. Keep this aside.
Now add onion and garlic paste in the same oil and fry it till golden. Then add ginger paste and stir well. Add red chilli powder and marinated chicken and mix well. Add sugar and stir continuously till the oil is separated from the spices. Now take a small bowl and mix cumin, coriander and black pepper powder with some water and make a paste. Then add it with the chicken. Mix it gently and add salt. Add little bit of water and cover the chicken with a lid till the chicken becomes soft. Now remove the cover and add chopped coriander leaves, garam masala powder and beresta (fried onion) and mix it. Now turn off the gas and put 2 tbsp ghee and few drops of rose water and cover it for 5 minutes.
Serve hot chicken korma with paratha, naan, pulao etc whatever you feel like.