Ingredients:
Broccoli florets – 1 hands full
Baby spinach – 2 hands full
Cinnamon powder – 1 pinch
Roughly chopped walnut – ½ cup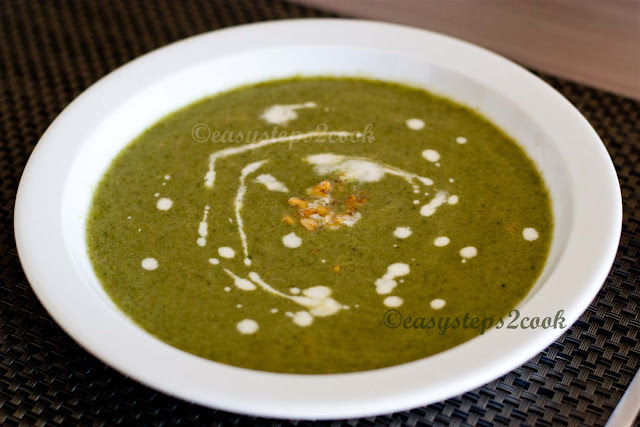 Crunchy Broccoli Soup






















Recipe:
Take a heavy bottom pan and heat 1 tbsp butter.
Add chopped onion and sauté it.
Add all green vegetables and occasionally stir for mixing.
Add 1 cup water and let it boil for 7-8 minutes.
Let it cool down and put this in blender and blend it.
Take a nonstick pan and put the remaining butter and fry the walnuts till golden, here you can use any types of nut like almond, cashew whatever you have. This nuts will give crunchiness.
Now remove nuts from the pan and pour the blended broccoli in it.
Time for seasoning, add salt and pepper.
Add nutmeg and cinnamon powder for nice aroma.
Let it boil for 2 minutes, in this stage if you feel the need to make it thinner, you can add milk.
Switch off the gas. Add cream and mix it well.
Add fried walnuts and serve in a bowl.
Your broccoli soup is ready.
This is one of my child's favourites. Another favourite soup of my daughter is Pumpkin soup. Both these soups are yummy and healthy. These are completely home made, so no added flavour or preservatives. Let me know how it turned out at your end. Happy cooking
J