Khejur Gurer Chaler Payesh|Rice Kheer Recipe
Khejur gur is one of the most important and favorite ingredient to make Bengali dessert. Bengalis wait throughout the year – when the winter season will come. Winter is very graceful in Bengal and comes with its bounty of seasonal flowers and vegetables, along with some important festivals like Poush Sankranti. Bengalis love winter as some of their most favourite foods and desserts are prepared with ingredients mostly available in this season including koraishutir kochuri and khjur gurer payesh.


Khejur gur or dates palm jiggery is prepared from the juice of dates palm tree. A whole is made on the body of the dates palm tree. Then a clay pot is hanged on the tree just below the whole. This is generally done after the sunset and the pot is brought down before the sun rise. This juice is then boiled to get jiggery. Dates palm jiggery is prepared shortly after bringing down the pot from the tree when the juice is still fresh, else it will be fermented which is used as local alcohol called tadi.


In Bengal, we get two types of khejur gur in winter – one is in liquid form, known as Nolen gur or notun gur; and the other one is in solid form, called Patali gur. The liquid or semi liquid form, ie. nolen gur cannot be stored for long. But patali gur can be stored for many months.


Khejur gur is a specialty of Bengal. West Bengal and its neighboring country Bangladesh are the only places where khejur gur is available. Though seasonal, khejur gur is an essential part of Bengali desserts – payes, kheer, rosogolla, sandesh etc. Due to its heavy demand, some famous sweet shops in Bengal store patali gur and prepare sweets from this throughout the year. Some shops store semi liquid nolen gur in a controlled temperature to use later. This stored khejur gur may not give exact flavor that we get when fresh gur is used in winter, but most Bengalis ignore this slight difference in flavor and enjoy desserts from khejur gur whenever they get a chance.


All of us, who are far from our native place in Bengal, wait when our parents, relatives or friends will come with this famous patali gur.
Chaler Payesh|Rice Kheer Recipe
Chaler payesh is one of the most famous desserts in Bengal as well as India. This dish is also known as rice kheer or rice pudding. In Bengal, this is one of the most famous dessert for any auspicious occasion. The payesh or rice kheer is prepared in many temples, festivals and special occasions like birthdays etc. Payesh is known in many alternative names in India, like payasam (Tamil), payasa (Kannada), khir (Punjabi), khiri (Odisha) etc.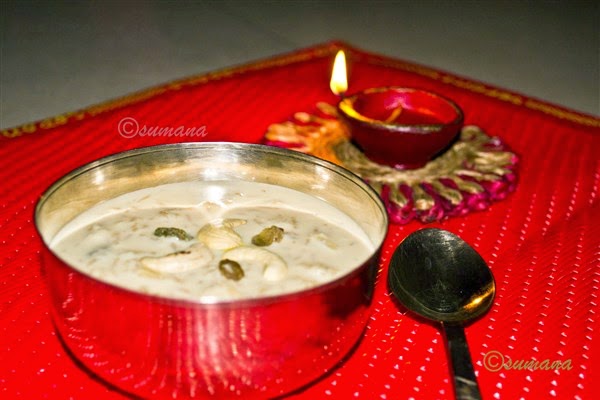 Khejur gurer payesh| Rice kheer with dates palm jaggery
What we need to prepare rice kheer:
Milk – ½ ltr
Flavored basmati rice – 1 tbsp
Milk powder – 2 tsp
Patali gur (solidified dates jiggery) – 2 tbsp
Bay leaf – 1 pc
Raisin – 10-12 pc
Chopped cashew nuts – 1 tbsp
How to make rice kheer :
At first clean rice in running water and then soak it with little bit of water for 30 minutes. If you do not have much time, don't soak. This is not an essential step.


Now take milk in a large vessel and start boiling it. Then put the soaked rice and a bay leaf and stir with a ladle continuously. After 10-12 minutes, the rice will be cooked and milk will be thickened also. Now add milk powder and dates jiggery and mix well. At this moment you will get a nice aroma of patali gur. After 4-5 minutes when the patali gur is fully dissolved, add dry fruits and mix. And then, when you notice some cooked rice on the top of and the milk is thick enough, remove the vessel from heat. Keep aside and allow it to cool down. When it comes down to room temperature, serve it.


If you do not have patali gur, you can use normal sugar. But obviously taste will be different. In that case you can sprinkle ½ tsp green cardamom powder which will give you a nice flavour.
NB: An important point to note while making payesh is that you need to stir it continuously while on heat so that it does not burn. If you do not stir, it might get burnt at the bottom. Even if this is burnt very slightly, it will leave an annoying smell which will destroy your entire effort.