Poila Boishakh theme cake
Subho nabobarsho 1425…..poila boisakh means Bengali new year started today. This day obviously very special to all Bengali. Actually Bengalis are very fond of food and festival and we wait throughout the year for our famous Durgapuja. But we have lots of occasions to celebrate with some sumptuous food and rituals. Poila boisakh is just one of them. In Bengali we have a famous proverb "bangalir baro mas e tero parbon"(in 12 months Bengalis have 13 festivals) and Poila Boisakh is the first festival of the year. How we celebrate this day…..generally in Bengal in this day maximum shops start their new account with some puja, which is called khata puja and that khata (book of account) is very special, that comes with red cover and knot with a thread, called 'kheror khata'. Now a days so many people stay out of Bengal for their jobs. So they always try to make a gathering with their Bong friends with some cultural programmes.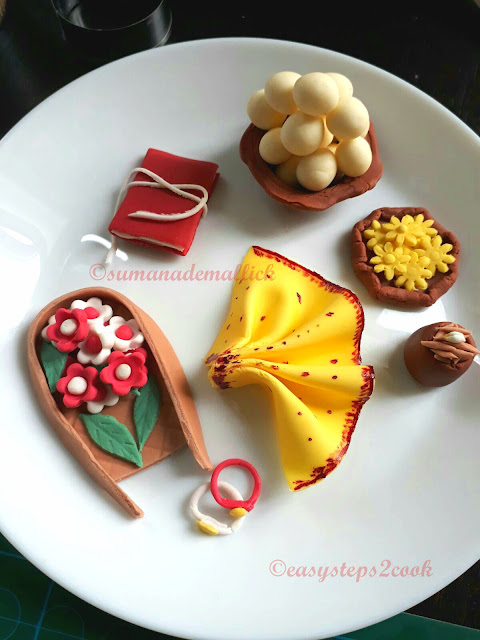 Nabo Borsho theme cake toppings created with fondant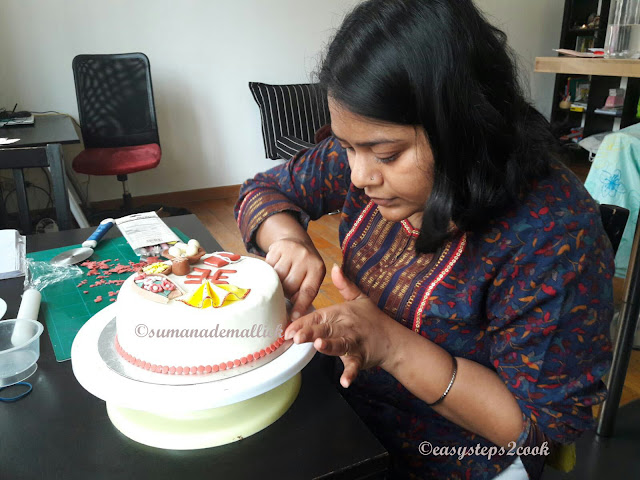 Crafting Nabo Borsho theme cake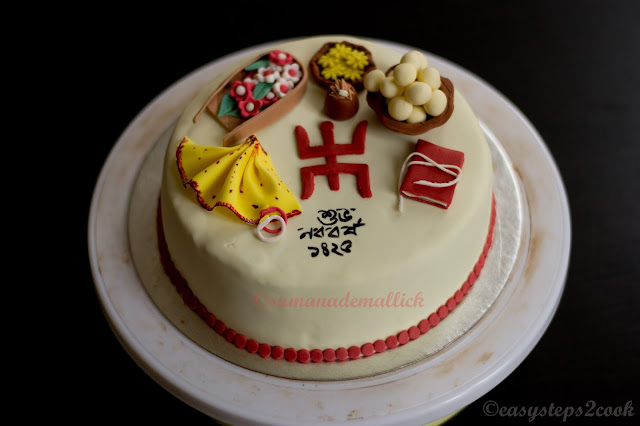 Poila Boishakh/ Nabo borsho theme cake art
For the last 10 years I am also out of Bengal, even out of India. So we also celebrate our Poila Boisakh with some bong friends with some mouthwatering dishes. And this time I made a cake on Poila Boisakh theme, where I tried to present few stuffs related to the occasion. As the gathering was arranged with the famous pot-luck concept, along with my cake, there were many mouthwatering traditional Bengali dishes brought by my friends. The menu includes dimer devil, Bengali pulao, chicken curry, mutton curry, bhapa ilish, amer chatni. The food was well accompanied by famous Bong adda with card games (taser adda
). Overall, it was a fantastic day spent with some adorable friends. We enjoyed it thoroughly.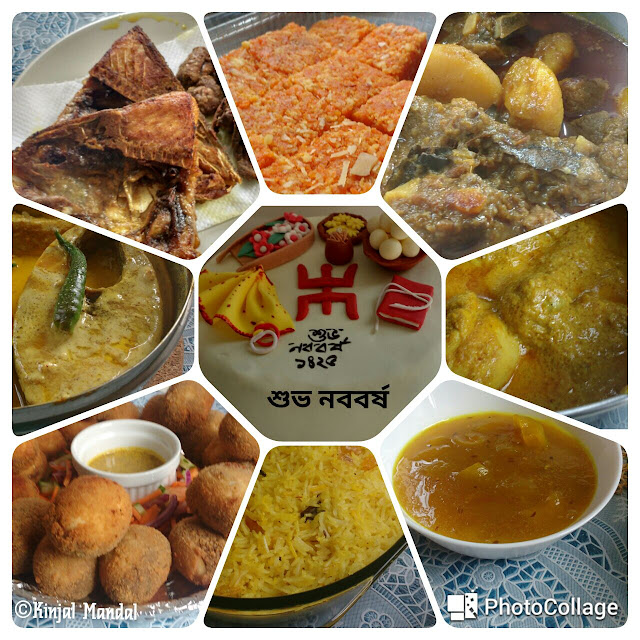 Poila Boishakh menu; PC: KInjal Mandal
One of the pic in this post is taken by my friend Kinjal.
Subho Naboborsho!!