Vegetable egg wrap is an easy to cook recipe that I came up suddenly while thinking of how to prepare something different for a Sunday breakfast.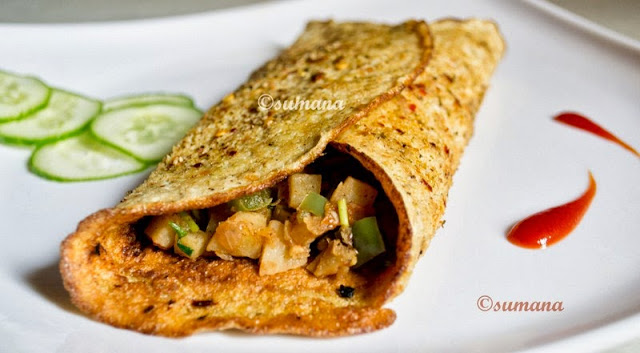 Vegetable Egg Wrap
Ingredients:
Preparation:
Heat butter in a pan. Add chopped garlic and onion. Sauté it.
Now add chopped potatoes and fry lightly. Add capsicum and tomato and mix well.
Add salt, black pepper powder and toss it. Now add the herbs (celery, parsley).
Mix well and remove from heat.
Beat eggs in a pot and add baking powder, 1 tbsp soda water and salt and keep it under lid for 10 minutes.
After 10 minutes heat butter in a pan. Beat the egg mix again and pour on the pan.
Keep it for 2-3 minutes. Now sprinkle some crushed black pepper and chilli flakes.
When it is cooked, take a flat plate and keep on top of the pan. Now turn it over carefully so that the egg is separated from the pan and comes on the plate.
Now put the stuffing on the fried egg and wrap it gently.