The word Ganache came from a French word "jowl". This is a glaze made by chocolate and cream and is used for icing or filling of pastry. Ganache is like a sauce in texture and butter is used for extra shiny look.

In my opinion, Ganache is a very easy and quick way to make a decorative cake. Actually last month I wanted to celebrate my princess' birthday. And I wished to make a birthday cake. But I am not comfortable enough to make a birthday cake. Sometime icing part is very difficult for us, who tries icing cake only for birthdays or any special occasions. Icing needs a bit of regular practice. So I thought of making a ganache cake for my little princess.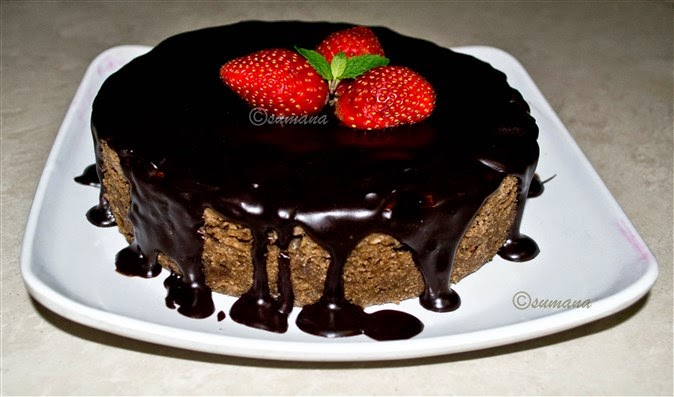 Cake With Chocolate Ganache

v

Ingredients for Ganache cake:
For cake:
Regular flour – 1 cup
White oil – ½ cup
Sugar – ½ cup
Coco powder – 2 tbsp
Vanilla essence – few drops
Baking powder – 1 tsp
Egg – 2 pcs
For ganache:
Choco chips or any plain chocolate bar (without dry fruits) – 100 gms
Fresh cream – 100 gms
Butter – 1 tbsp
For decoration:
Strawberry
Cake sprinkles
Gems
v

How to bake chocolate cake:
At first grind sugar and keep aside.
Take a mixing bowl and mix 1 cup of regular flour, coco powder and 1tsp baking powder.
Now take another mixing bowl and put butter and powder sugar and beat well. Then add eggs and beat well. When it starts looking floppy add the flour mixture and mix well with a spatula. This mixing is most important step to make a good cake. It is called fold and the movement should be on the same side (clockwise or anticlockwise).
Now grease the cake mold. Pour the batter in the mold and gently place it into preheated oven in convection mode at 180c for 20 – 25 minutes.
After hearing the beep sound, take a toothpick and gently prick the cake from top. If the toothpick comes out clean this indicates that your cake is ready.
v

How to prepare Ganache:
Take 100 gms choco chips or chocolate bar (I have used choco chips). Then heat 100 ml fresh cream in a pan but do not boil it. So the ratio I used for Ganache is 1:1 for chocolate and cream. When this is slightly hot, add the choco chips and stir it. Remove the pan from the heat and stir. When the chocolate starts melting put 1 tbsp butter. Here butter will give an extra glaze. Your ganache is ready now.
Ganache is not very hot. So you can use it immediately. Now place your cake and take a ladle full of ganache. Pour ganache on the middle of the cake and you will notice that ganache is flowing down from cake and making a design. This will happen because of its texture.
Now, it is time to decorate your cake with fresh strawberries, sprinkles, gems or anything which you like.
Note: For Ganache, the proportion and temperature are very important and differs according to the purpose of use. For my ganache cake, I used 1:1 of chocolate and cream. For a thinner ganache, cream proportion needs to be increased upto 2. Pour the ganache over cake when it is still hot. It should not be too hot as then it will be too loose and will run down the cake. And it should not cool down completely; in that case it will be difficult to pour over the cake smoothly.