'Kulhad ki kheer' is one of the favourite dessert for me as well as my family. But I was little confused about this dish because of its name and its recipe. Actually I got so many recipes of this but main ingredients are little different, first time I saw vermicelli flour but then I saw rice flour in the other recipe. So I thought here is some secrets or twist in the word 'kulhad'. And yes, I was right.
According to Wikipedia, kulhad (kulhar) means a traditional handle-less clay as well as terracotta cup from North India and Pakistan. This is actually disposable, use and throws. These cups are mostly used in roadside tea stalls, curd and some regional traditional desserts. When you serve anything in kulhad or in clay cup it will be tastier for its earthy aroma.
Kulhad ki kheer is a very popular dessert in the Navaratri festival, served in clay bowls to match the occasion and this is also served with semia rice (vermicelli flour) with dry fruits.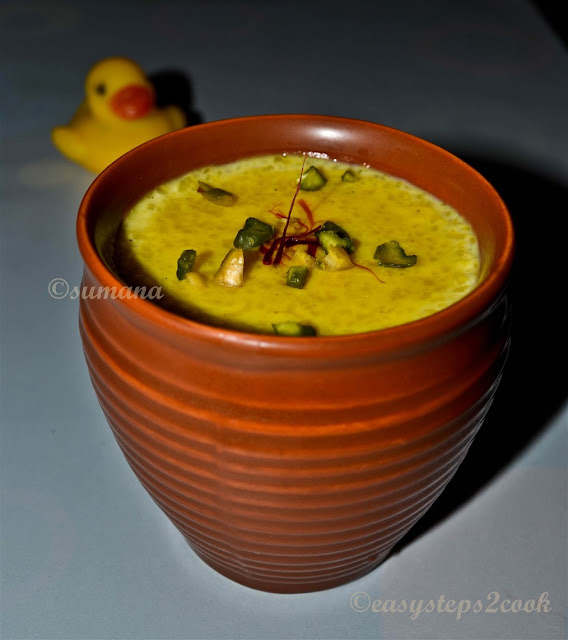 Kulhad Ki Kheer
Ingredients:
Semia (vermicelli) flour – 1 tbsp,
Green cardamom powder – ½ tsp
Recipe:
Take 2-3 tbsp milk and soak the saffron in it.
Put milk in a pan and add the semia powder. Mix gently in low flame. Keep stirring constantly and scrap the sides of the vessel. After 10-15 minutes, when the semia powder becomes soft, add sugar and stir it. Mix well and simmer for 4-5minutes. Now add green cardamom powder and soaked saffron and mix it gently. When it becomes thick remove from the fire. Pour into a serving bowl and keep aside to cool slightly and then refrigerate for at least 2 hours. Garnish kulhad ki kheer with chopped pista and serve.
Wish you all a very happy Diwali!!! Happy cooking
J