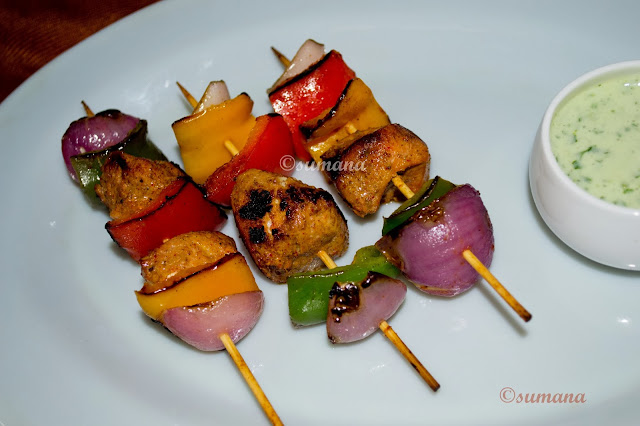 Pan Fried Chicken Tikka
Chicken tikka is one of the most popular non-veg starter in India. Normally this is cooked in Tandoor or oven. But at home this can be cooked in pan also. This might taste a bit different as compared to tandoor-cooked tikka because the flavour of coal smoke is absent. But this pan fried chicken tikka can be cooked by anybody at home easily and quickly.
Ingredients:
Boneless chicken cubes - 250 gms
Bell pepper - red, yellow and green
Ginger-garlic paste – 1 tsp
Kashmiri red chilli powder – 1 tsp
Garam masala powder – ¼ tsp
Preparation:
Cut onion and all bell peppers into square pieces. Now marinate the chicken with hang curd, ginger-garlic paste, kashmiri red chilli powder, garam masala powder and lemon juice for 2-3 hours and refrigerate it. Now add oil and salt and mix it well. Take a skewer and string the onion, capsicum, chicken, capsicum one by one and put it in a greased pan in flame. After 5-6 minutes, turn over the skewers. After another 5-6 minutes the chicken should be cooked properly. Serve hot with raita and salad.