Prawn is one of the most favourite non-veg item at our home. Though I do not normally cook with wine, this time I thought of trying out wine in prawn recipe. This turned out so yummy that I just can't wait to share with my friends. If any one one of you try, please do not forget to let me now how it turned out at your end.
Ingredients:
Medium size Prawn – 15 pcs
Chopped garlic – 1tbsp
Chopped onion – 1tbsp
Lemon zest – 1tsp
Chopped parsley – 2 tbsp
Red chilli flakes – 2tsp
Salt
Olive oil – 3tbsp
Cream – 2tbsp
White wine – ½ cup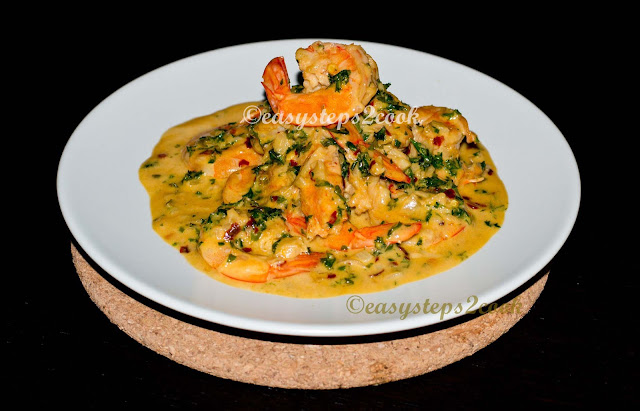 Lemon Garlic Prawn
Recipe:
Clean the prawns very gently and devein it.
Now marinate the prawns with salt for 5 minutes.
Heat 2tbsp oil in a pan and fry the prawns.
When it starts to change the colour remove from the pan.
Add another 1tbsp oil in the pan and put garlics.
Just wait for getting aroma and add chopped onion and sauté it.
Add red chilli flakes.
Add white wine and keep it in high flame.
Add prawns and chopped parsley.
Add salt as per taste.
Add cream and keep it in medium flame.
Allow to boil and add lemon zest.
Now gently put the prawns and cook for two minutes. After 2 minutes take off the prawns from the pan otherwise they will be hard. Prawns need very less time to cook.
Allow the gravy to thicken like sauce.
Switch off the gas and pour gravy on the prawns. All the prawns should be covered with sauce.
Serve hot with rice, pasta whatever you like.