Kebab…………I love kebab. This is the one and only dish which I want to eat anytime, anywhere. The smoky flavor makes me crazy. Not only me, my whole family loves kebab, even my three and a half year old daughter also likes it.
Kebab is a dish from Middle Eastern, Eastern Mediterranean and South Asian countries. When you serve, it should be hot. Traditionally kebabs were made by lamb. But it depends on local taste and society. Actually tastes differ man to man and that's why you will get many different types of meat including beef, chicken, goat, pork, fish etc. Like other ethnic foods spread by travelers around the world, kebab, which was a part of regular cuisine in most of the Middle Easter and South Asian countries, is now enjoyed by people around the world.
Nowadays kebab/kabab is the most popular dish in urban India. Any get to gather or party will be incomplete without kebab as a starter. Banjara kebab is a type of kebab which I learned from a regional television cookery show. And it is very easy to make at home in your microwave and very tasty too.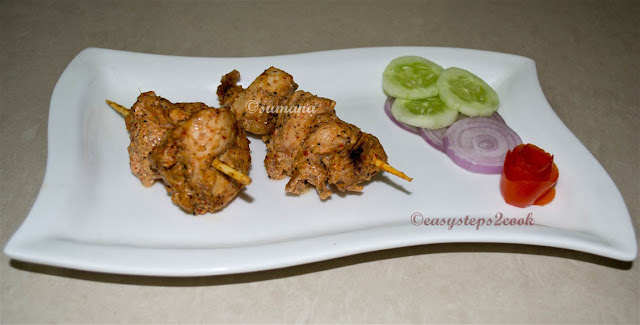 Banjara Kabab
Recipe of Chicken Banjara Kabab
Ingredients:
Boneless chicken cubes – 300 gms
Dry red chilli – 6-7 pcs
Cumin – 1 tsp
Coriander – 1tsp
Kababchini – 1 tsp
White pepper corn – 1 tsp
Nutmeg – 1/4th tsp
Ginger-garlic paste – 1 tsp
Peanut/groundnut paste – 2 tbsp
Dry mango powder – 1 tsp
Kashmiri red chilli powder – 1 tsp
Hung curd – 2 tbsp
Salt
Lemon juice
Wooden skewer
Method:
Marinade the chicken with lemon juice and salt for around 30 minutes.
Now take a pan and roast dry red chilli, cumin, coriander, kabab chini, white pepper corn and nutmeg. Then grind and keep aside with lid.
Now marinate the chicken with lemon juice and salt for 15-20 minutes.
After 15 minutes you will get some excess water from the marination, so drain that water and again marinate the chicken with ginger-garlic paste, groundnut paste, dry mango powder, kashmiri red chilli powder, hung curd and the grinded spices for 30 minutes.
Now take some wooden skewer and string the chicken pieces one by one and cook it in microwave mode for 4-5 minutes. While cooking in microwave, instead of putting the skewers on tray, take a medium size bowl and keep the skewer on it so that both ends of the skewer touch the edge of the bowl and the chicken pieces do not touch the base of the bowl. The air gap between the edge of the bowl and chicken will help it to cook all sides of chicken well. This will also help to keep the microwave clean as the juice from chicken will drop in the bowl.
Garnish chicken banjara kabab neatly and serve hot. Let me know how it turned out at your end. Happy cooking :-)