Dudh puli or pithe payes is a traditional Bengali dessert prepared on the eve of Poush Sankranti (Makar Sankranti) in every Bengali household. Pithe Parbon (festival) is incomplete without Dudh Puli (or doodh puli). Dudh means milk in Bengali. Puli resembles with dumpling with the outer shell or khol being prepared from rice powder and the stuffing is made from grated coconut and date palm jaggery (Nolen gur or khajur ka gur). Dudh puli is kheer or payasam with puli pithe.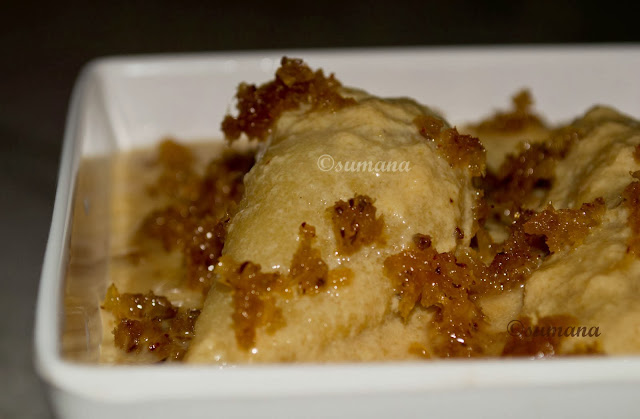 Dudh puli
Dudh puli recipe
Dudh Puli – Ingredients:
Date palm jaggery – 3/4 cup
Dudh Puli - Preparation:
At first, mix the grated coconut and ¼ cup date jaggery in a pan and put it in low flame. Stir well for 5 minutes and take out from flame. The stuffing is now ready.
Then take rice flour and add sufficient warm water to make a smooth dough. Keep aside the dough for 10 minutes.
Make small balls from dough and spread each ball in your plum. Stuff this with coconut mixture and fold it so that it looks like a half circle. Seal the edges properly. Your pulis are now ready.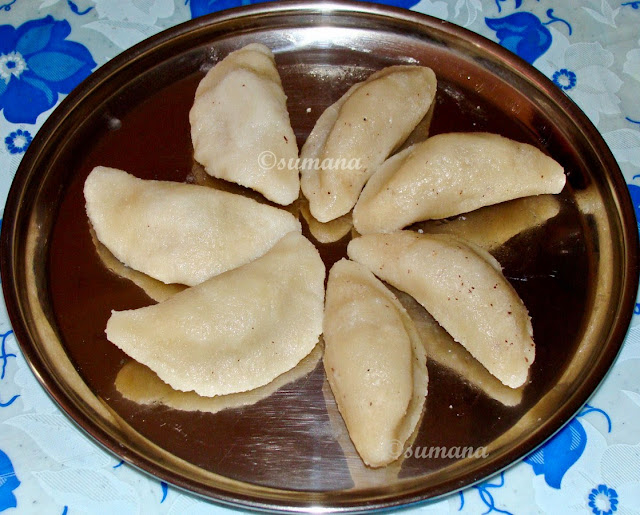 When pulis are ready - they should look like these
Now put a heavy bottom vessel on flame, pour milk and stir it constantly. When the milk starts to boil add the pulis into the milk very slowly and continue stirring the milk lightly. After 10 -15 minutes when the pulis are cooked and the milk is thickened, add dates jaggery and stir it gently so that the pulis do not break. After a few minutes when the jaggery is completely melted and mixed in the milk, pour it into serving a bowl.
Dudh puli is now ready. Serve when cooled down to normal temperature. Spread little bit of grated coconut and jaggery mixture (initially created for stuffing) on top. It serves as garnishing and also enhances the taste.
If you do not have date palm jaggery, you can use plain sugar and in that case you should add green cardamom powder.