Stew is a very healthy dish which is a combination of meat and vegetables. This dish is cooked slowly in a close dish or pan and contains lots of liquid. This healthy dish has a very tamping taste yet good for calorie conscious people. Generally most of the seasonal vegetables like carrots, beans, potato, tomato, green papaya are combined with meat. This is very easy digestive for all.
Stew has been made since the ancient period. The evidence of preparing stew was found in several old civilizations thousands of years ago.
Soup and stew have a very little difference. Soup is more liquid than stew. Stew requires longer time than soup. Soup has smaller pieces of vegetables and meat and stew has larger pieces. Generally soups are always served in bowl and stews are served in a plate because of thickness.
I have made this dish ….. combination of chicken and vegetables, especially for my baby but we also liked this. I learned this recipe from my mother, but made some changes from her recipe. I don't like to use turmeric powder. I think if I use that powder the stew will lose the beauty. My grandfather had also made an awesome chicken stew….and that was really awesome.
J
Find below recipe of the chicken stew which is my all-time favorite.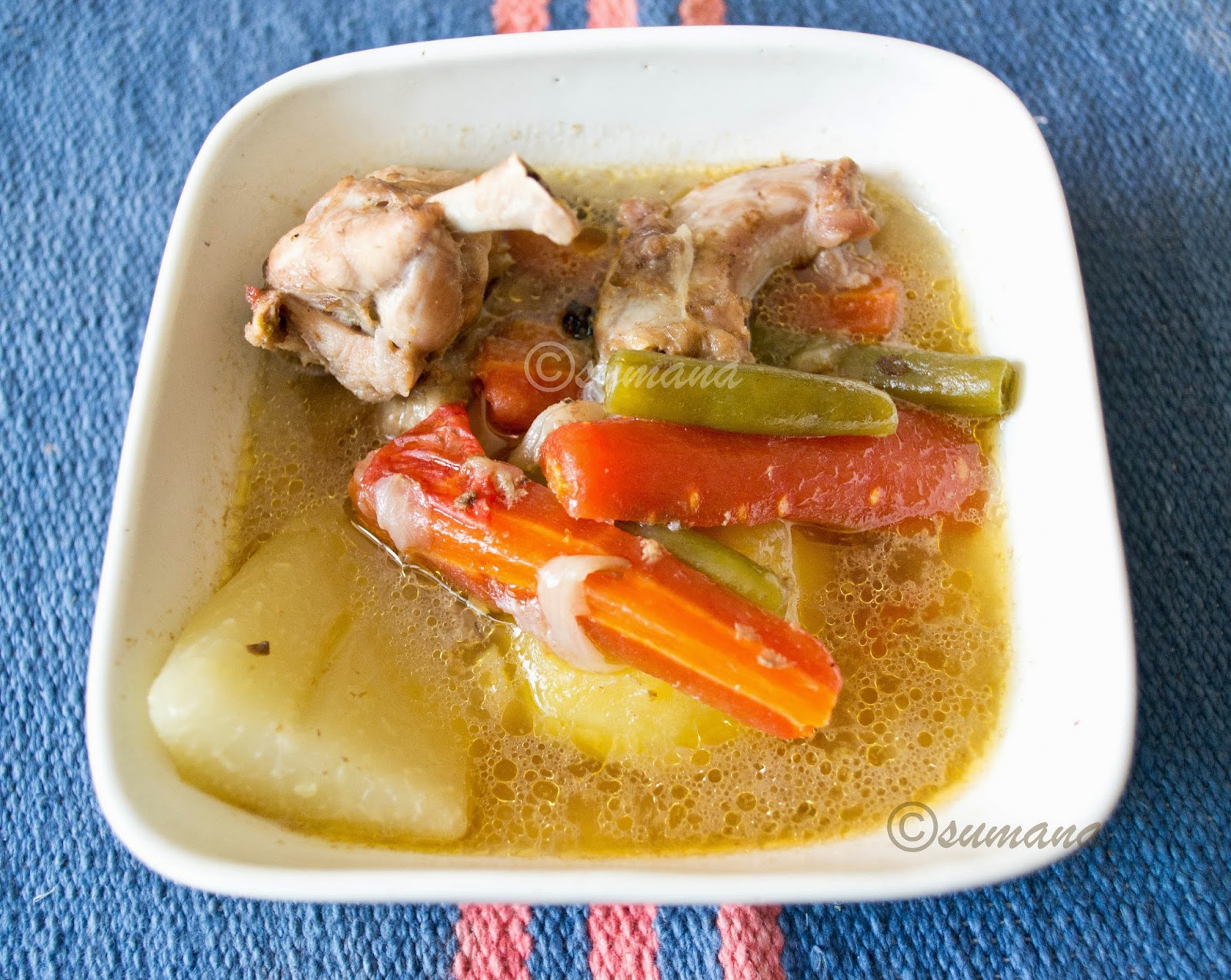 Chicken Stew
Ingredients for chicken stew:
Green papaya – ¼th of medium size
Crushed black pepper – 1 tsp
Recipe of chicken stew:
Cut all vegetables into medium pieces. We need vegetable and chicken to be of same size as this will enhance the taste of stew.
Now take a pressure cooker and put butter. When butter will starts melting put the whole spices, such as cardamom, clove, cinnamon, bay leaf and crushed black pepper. After a few moments, add sliced onion and sauté it. Then add chopped tomato and ginger paste and mix it. After that add chicken and vegetables and mix it. Then add salt and add a pinch of sugar. Mix it and add 2-3 cups of water (according to the thickness you need) and cover the cooker with lid. Then cook the chicken stew in a low flame for 10-12 minutes or 4-5 whistles.
Now your chicken stew is ready. Serve with roti, bread or rice also.