Ingredients for Zebra Cake:
Chocolate essence – few drops
Vanilla essence – few drops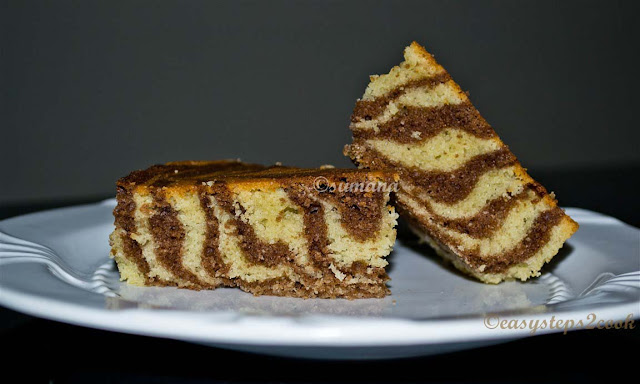 Zebra Cake
Recipe of Zebra Cake:
At first grind the sugar and keep aside.
Now take a mixing bowl and put butter and sugar powder and beat well. Then add an egg and beat it well and add few drops of vanilla essence.
Now take a mixing bowl and mix 1 cup of regular flour and baking powder.
Add this flour into beaten egg and mix well. If you feel the batter is thick, add lukewarm milk. Actually this batter should be ribboning.
Now pre heat the oven in convection mode at 180c for 5 minutes.
Divide the batter in two portions and keep them in two separate bowl.
Now add coco powder and chocolate essence in one bowl and mix it very well.
Now grease the baking tin and pour 2 tbsp white batter and wait for few second. When you see that the batter is spread in the tin, pour 2 tbsp chocolate batter and repeat this process. When two types of batter will is finished take a tooth pick and just cut some line over the batter. The lines make a nice design. Now place it into oven in 180c for 25 minutes.
Take the cake tin and gently prick it with a toothpick from top. If the toothpick comes out clean this indicates that your zebra cake is ready.
After sometime cut the cake and you can see the design like zebra.