Mango banana dome is an easy to make dessert with two of the most commonly found tropical dessert. Mango the national fruit of India. This seasonal fruit is mostly available in summer. But now a days, canned mango pulp is available in market throughout the year. Banana is anyway available throughout the year. Another advantage of this delicious dessert is that it can be prepared days before the actual serving. This chilled dessert is prepared with mango pulp and smashed banana. The two distinct layers are created by periodically freezing it and garnished with mint leaves to add a touch of green.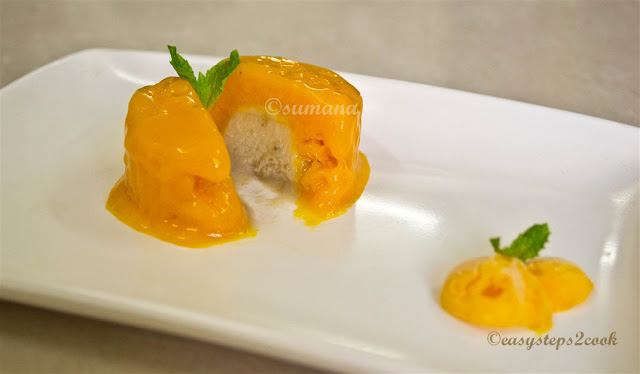 Mango Banana Dome
Ingredients for mango banana dome:
Mango pulp – 1 cup
Banana – 1 small
Vanilla essence – few drops
Whipped cream – 2 tbsp
Mint leaves
Sugar (as required)
Method of mango banana dome:
Take the mango pulp and add sugar (depending on sweetness of mango) and blend it very well.

Now take silicon dome mold or cupcakes mold, if you do not have silicon mold, you can use normal mold but have to grease it slightly, and pour the blended mango pulp.

Now freeze it for 3-4 hrs.

Then take a banana and blend it. Now add whipped cream and vanilla essence and again blend it. This is like a banana mousse.

Freeze it for 1 hr.

Now take the chilled mango pulp and scoop it to make a hole for stuffing.

Then pour the chilled banana mousse into the hole and again freeze it.

Before serving, remove the mango banana dessert from mold and cut with a sharp knife. Decorate with mint leaves. Enjoy this chilled dessert with your loved ones.