Vegetable chops or vegetable fritters are one of the most famous veg snacks for Bengalis in winter. Earlier vegetable chop was regularly served as starters in all Bengali occasions and ceremonies in winter. The reason for being seasonal is the availability of its key ingredients - beetroot and carrots. This Bengali style vegetable chop recipe is a pure veg recipe, ie. excluding onion and garlic. Serve hot vegetable chops with salad, kasundi (a Bengali style mustard sauce) and hot tea or coffee. The good thing is you can make the chops ready when you have time and keep them in
refrigerator.
Fry it just before eating.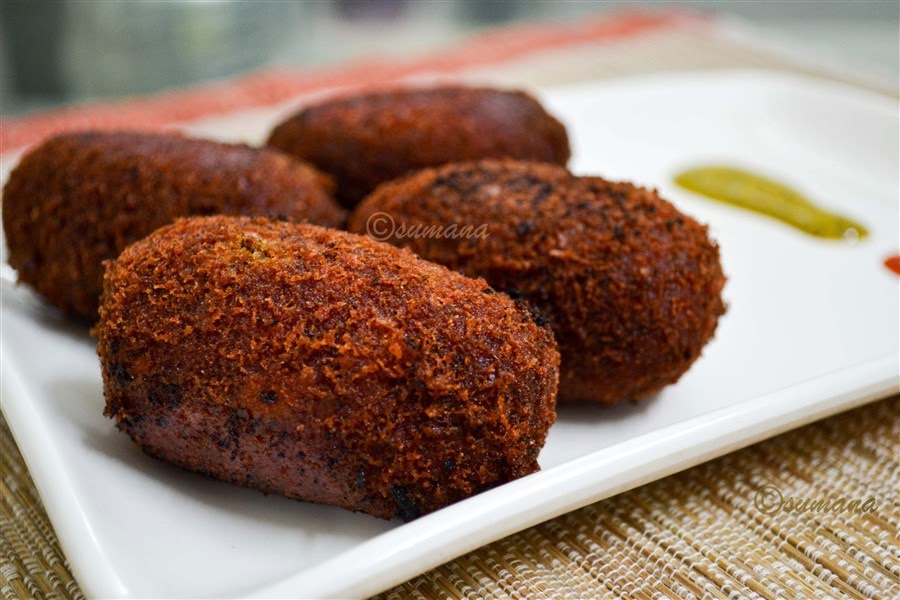 Bengali Style Vegetable Chop
Ingredients:
Grated beet – 1 medium
Grated carrot – 2 cups
Boiled potato – 2 large
Ginger paste – 1 tsp
Chopped coriander leaves – ½ cup
Sugar
Salt
Cumin powder – 2 tsp
Coriander powder – 2 tsp
Red chilli powder – 1 tsp
Cumin seeds – 1 tsp
Dry red chilli – 3-4 pcs
Cloves – 3-4 pcs
Cinnamon – 2 pcs
Cardamom – 1 inch
Ground nuts – ½ cup
Bread slice (without side) – 2-3 pieces
Regular flour – 1 cup
Bread crumbs
White oil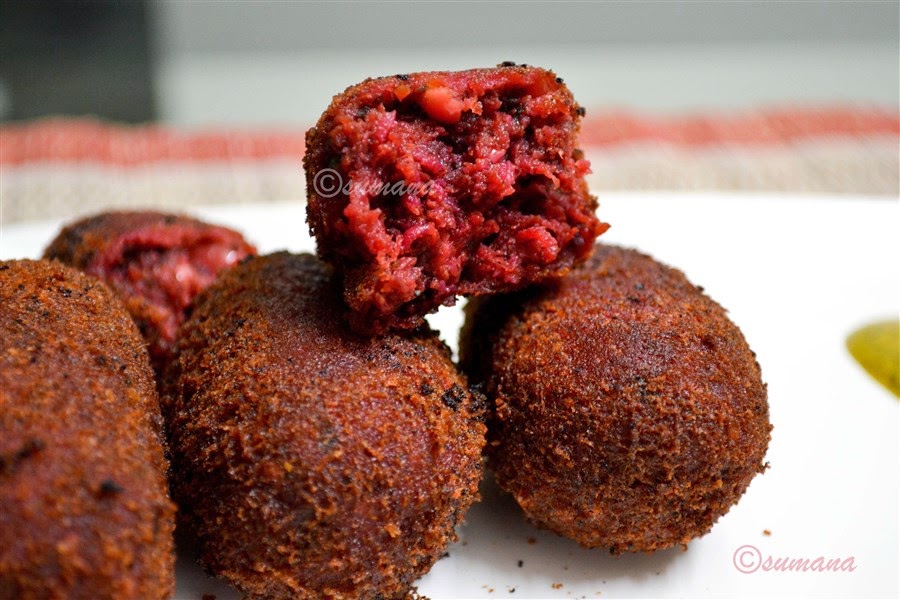 Bengali Style Vegetable Chop (Fritters)
Recipe:
Dry roast whole spices and grind it. Keep this spice powder aside with a lid.
Then take boiled potato and grate it. Now heat 1 tsp oil in a pan, fry the nuts and crush it.
Then heat 2 tbsp oil in a pan and put ginger paste. Fry it and add cumin – coriander powder and red chilli powder and stir it. Then add all types of grated vegetables and mix with spices. Also take two pieces of bread and cut the edges. Smash them with the vegetables mixture. Now add crushed nuts and salt and sugar for taste. Mix it well and add chopped coriander leaves. At last sprinkle the dry roasted spices and mix well. This vegetables mixture is like dough. Make medium balls from this dough, and give them oval shape and keep aside.
Now take a flat plate and spread some flour and roll out the oval shaped vegetable chops.
Take another flat plate and spread bread crumbs.
Then take a bowl and mix some flour and water to make a very thin batter. Now deep the chops into the batter and roll out on the bread crumbs and your chops are almost ready.
Now heat oil in a pan and deep fry them.
Serve hot vegetable chops with salad and kasundi (Bengali style mustard sauce) and enjoy your high tea.