Fish Paturi
Paturi is a very traditional Indian, particularly Bengali recipe. Paturi means something wrapped by leaves. Generally banana leaves are used to make paturi for its aroma. Leaves of bottle gourd are also used to make paturi. The main difference is bottle gourd leaves are also eatable but banana leaves are not eatable. Even though Bhetki Paturi is most popular, many people love Hilsa Paturi also.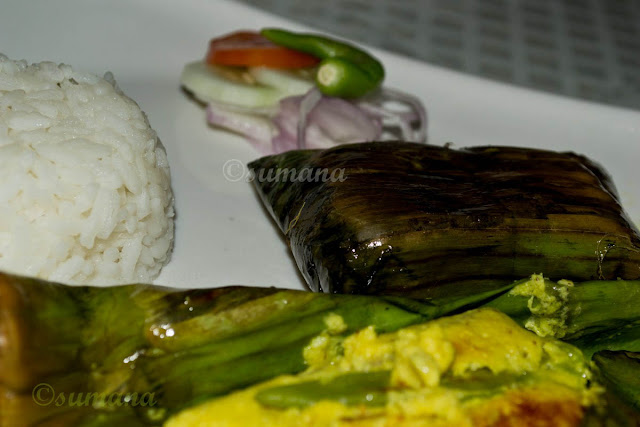 Fish Paturi
Fish Paturi - Ingredients:
Bhetki fillet - 4 pcs
Coconut paste – 4 tbsp
Mustard paste – 2 tbsp
Turmeric powder – 1 ½ tbsp
Mustard oil – 4 tbsp
Salt – as per taste
Green chilli – 4 pcs
Banana leaves – 4 pcs (10"x10")
Thread
Fish Paturi - Preparation:
At first clean the fish and dry it for some time. In a bowl make a smooth paste of coconut, mustard, turmeric powder, salt and mustard oil. Place the fish pieces in the mustard mixture and coat them well with the paste. Now blanch the leaves so that it does not tear easily. Brush the leaves lightly with oil. Now place the fish pieces in each of the leaves along with a green chilli. Fold the leaves properly and tie them with thread. Now put some oil in a pan and fry the paturis. After 4-5 minutes turn them upside down and fry for another 4-5 minutes. Your delicious fish paturi is now ready. Serve them hot with rice. Serve paturis along with the leaves, as it is cooked, at most just cut the threads. Unwrapping it before serving will cause loss of aroma.