Chicken

65
Chicken 65 is a starter item. It is very easy to cook and tasty side dish with fried rice.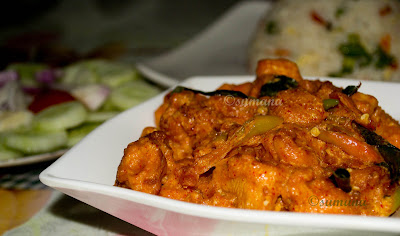 Chicken 65
Ingredients:
Boneless chicken (small pieces)
Recipe:
Marinate the chicken with curd, ginger-garlic paste, egg, red chili powder and coriander powder for 2-3 hours. Heat oil in a fry pan and add marinated chicken one by one. Fry it till brown. Remove from pan and add curry leaves, chopped green chili and ginger -garlic paste. Stir it well and add curd, salt and sugar and mix well. Now add fried chicken and toss it. Serve hot.