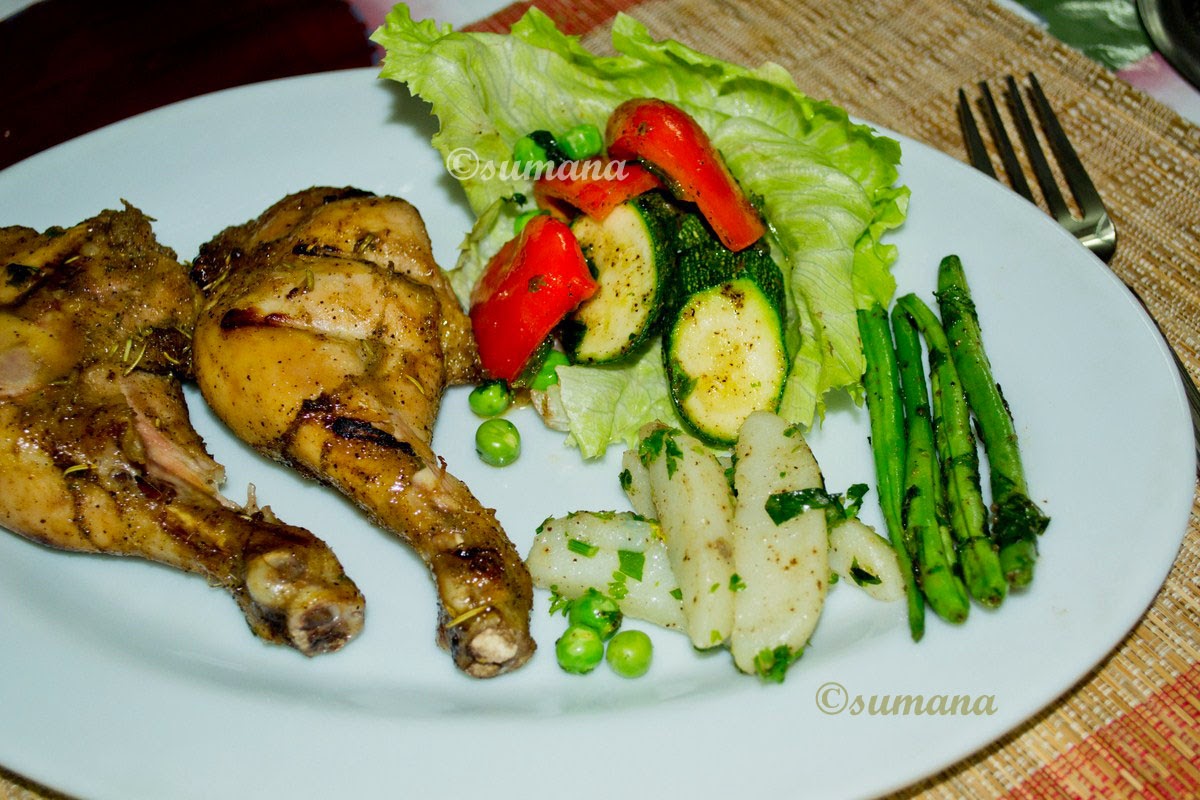 Chicken roast with butter tossed vegetables
Chicken roast can be prepared in many ways with different flavors. I prepared this roast on 31st December night with honey-orange sticky sauce and served it with butter tossed vegetables.
Ingredients:
Chicken – 2 leg pieces
Garlic paste – 1 tsp
Rosemary – ½ tsp
Crushed black pepper – 1 tbsp
Chopped parsley – 1 tsp
Chopped celery – 1 tsp
Olive oil
Salt
Orange juice – 4 tbsp
Honey – 1 tbsp
Boiled potato
Red capsicum
Zucchini
Green peas
French beans
Butter
Recipe:
Chicken roast:
Marinate the chicken with salt, garlic paste, crushed black pepper, 2 tbsp orange juice, olive oil and rosemary for 1 hour. Now pre heat the oven for 3-4 minutes. Then place the chicken in grill rack in 200c for 8-10 minutes. In the mean time, mix orange juice and honey in a pan and heat it. When it is sticky, sprinkle some chopped fresh parsley and celery. Now brush this sticky orange juice over the chicken and again put it in the oven for 2 minutes.
Butter tossed vegetable:
Now, boil potato and then slice it into finger sized pieces.
Cut capsicum into square pieces.
Cut zucchini in round shape.
Then take butter in a pan and put it on heat. When the butter is melted, add pepper powder, salt and boiled potato. Toss it and sprinkle chopped fresh parsley and take it out of the heat. Again put butter in the pan and add salt, black pepper powder, red capsicum, zucchini, green peas and French beans and toss for a while. When cooked, take out from heat.
Now place the chicken in a plate and garnish with tossed vegetables. Serve hot.