Ingredients:
Whole wheat – 1 cup
Vegetable oil – 1/3 1/3 cup
Jaggery powder – ¼ cup
Sugar powder – ¼ cup
Butter milk – ½ cup
Hot water – ½ cup
Baking powder – 1tsp
Baking soda – ½ tsp
Grated fresh ginger – 1 tbsp
Crushed black pepper – ½ tsp
Cinnamon powder – ¼ tsp
Clove powder – ¼ tsp
Salt – ¼ tsp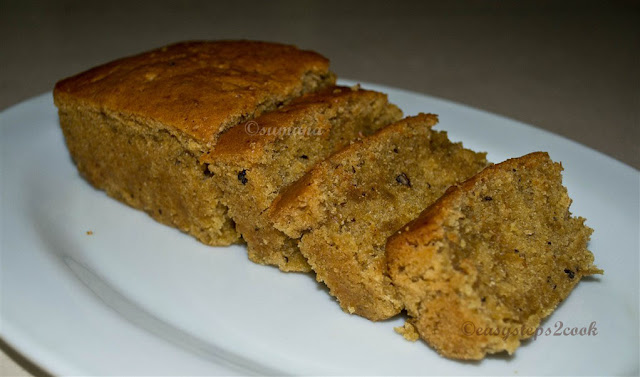 Eggless Ginger Cake
Recipe:
1.
Take a large mixing bowl and mix all dry ingredients like whole wheat flour, baking powder, baking soda, cinnamon powder, clove powder, crushed black pepper, salt and grated ginger.
3.
Take another mixing bowl and mix oil, butter milk, jaggery and sugar powder with a spatula.
4.
Then add all dry ingredients and mix gently with one side direction.
5.
The batter should be ribboning. At this stage add some hot water to make the batter consistency ribboning.
6.
Now take a greased cake tin and pour the batter.
7.
Bake it in preheated oven at 180c for 25 -30 minutes.
Please let me know how it turns out.
Happy baking.
...
J