Orange chicken is a Chinese dish where the yummy sauce is made with ripe orange juice and zest. And guess what, honey is also added to make the sauce even yummier. My daughter is a hard core chicken fan. That too she likes different preparations of chicken. One day when I was searching for a new chicken recipe, I stumbled upon this one and all the ingredients were also present at my kitchen. It turned out to be quick recipe and goes very well with fried rice or noodles. Let me know how many of you tried this at home and how it turned out.
Ingredients:
Chicken cubes – 300 gms
Corn flour – 2 tbsp
Flour – 1 tbsp
Egg – 1
Ginger garlic paste – 1 tsp
Orange zest – 1tsp
Orange juice – ¾th cup
Red chilli sauce – 1tbsp
Light soya sauce – 1 ½ tbsp.
Tomato sauce – 1 tbsp
Honey – 1 or 2 tsp (depends on sweetness of orange)
Chopped spring onion
Capsicum – square cut (optional)
Salt
Black pepper powder
Oil - 1 cup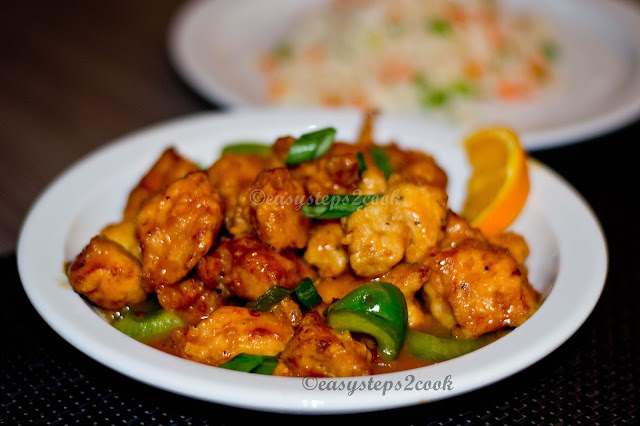 Orange Chicken

Recipe:
Marinate the chicken with ginger garlic paste, salt, ½ tbsp. soya sauce, pepper powder, flour, corn flour, egg and keep aside for 15- 20 minutes.
Heat oil in a wok and fry the chicken pieces till golden.
Keep them aside.
In a pan put orange juice, orange zest, and three types of sauces, honey, salt and 2 tbsp. oil from wok.
Switch on the gas and when it starts to bubble add chicken, capsicum (optional) and toss it.
All chicken should be coated with sauce.
Lastly add 1 tbsp corn flour with water (1tsp corn flour + 1tbsp water) and mix it.
Serve in a plate and sprinkle some chopped spring onion.
Serve hot with fried rice or noodles.