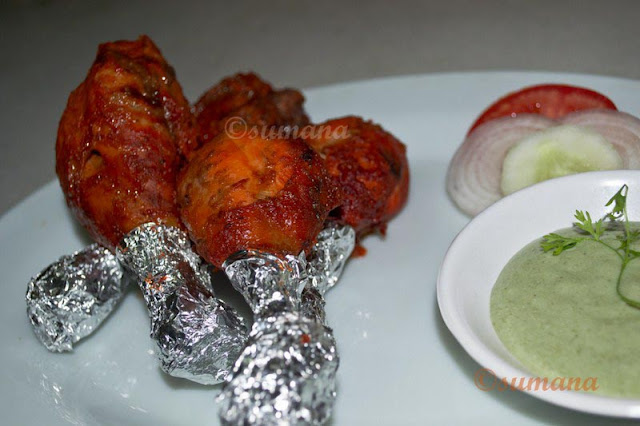 Tangdi Kabab
Tangdi means leg of chicken. Out of many forms of kabab,
Tangdi kebab is one of the most popular kebab in India.
Ingredients:
Lemon juice – ½ of a lemon
Tandoori colour (optional)
Butter or white oil – 2 tbsp
Method:
Marinate the chicken with curd, ginger-garlic paste, salt, lemon juice, tandoori masala, tandoori colour (optional) for 3-4 hours. Keep it in freeze. Now string the chicken pieces on a skewer. Preheat the oven in 275°F for 5 minutes. And keep the skewers in oven and grill for 10 minutes. Brush with butter and turn over the other side. Now grill them for another 5 minutes or what you think is required for the chicken to cook. When done spread chat masala over the tandoori and serve with green chatni.