Gobi Paneer Amritsari
Gobi Paneer Amritsari is an easy recipe to cook cauliflower.with a slightly different taste than everyday gobi sabji (dish).
Ingredients: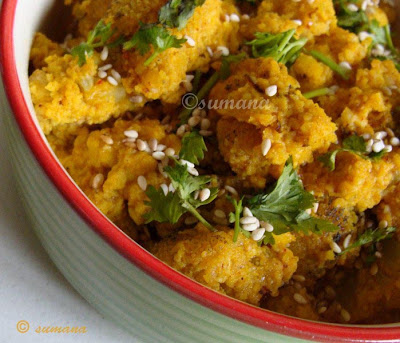 Gobi Paneer Amritsari
Preparations:
At first cut cauliflower into florets and boil them. Now drain the water and keep the florets aside. Heat oil and ghee in a pan and add grated paneer. Now add curd, cashew- raisin paste, ginger paste, cumin powder, red chilli powder, turmeric powder, sesame paste, a little bit of sugar and salt and mix very well. Stir it well and add cauliflower. Keep stirring and add a little water and cover it. After 2-3 minutes add garam masala powder and mix it. Serve in a plate and spread roasted sesame and chopped coriander leaves.
Serve with paratha or pulao.