Honey Glazed Chicken Drumstick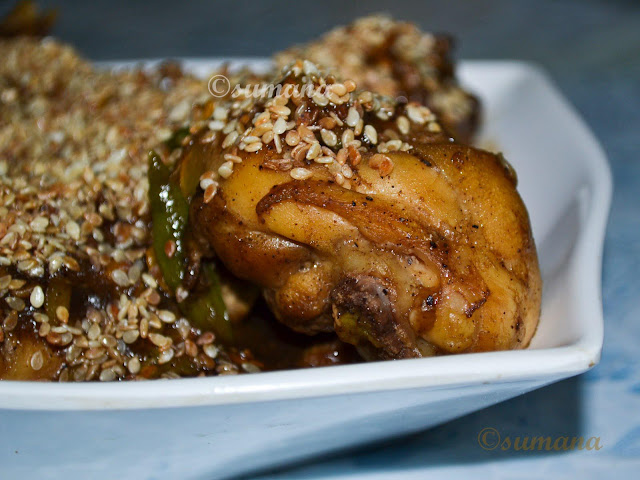 Honey glazed chicken drumstick
Ingredients:
Chicken drumstick
Soya sauce
Spring onion
Zucchini juliene cut
Honey
Chopped garlic
Salt
White pepper powder
Black pepper powder
Corn flour
Chilli flakes
Roasted sesame
White oil
Ajinamoto
Preperation:
At first boil the chicken drumstick and separate the chicken pieces and stock.
Then marinate the boiled chicken with salt and pepper powder.
In a flat pan put oil and shallow fry the boiled drumstick. When it becomes light brown remove it from the pan.
In another pan put little oil and add chopped garlic.
Now saute it and add zucchini, spring onion, chilli flakes, pepper powder, salt, saya sauce and mix all in high flame.
Add fried chicken pieces.
In a bowl mix cornflour, ajinamoto and chicken stock and add in the pan.
Now add honey and stir well.
Serve hot in a plate and spread roasted sesame on it.