Chicken Roast With Pepper
Ingredients: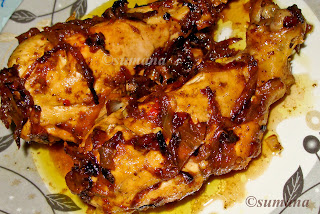 Chicken Roast With Pepper
Preperation:
Marinate the chicken with lemon juice, ginger-garlic paste and salt for 45 minutes. In a karai heat oil and fry the sliced onion till it is brown. Now heat oil in a pressure cooker and keep the marinated drumstick. Put fried onion over the chicken and spread a large amount of pepper powder. Wait for 2-3 whistle and serve hot with salad.