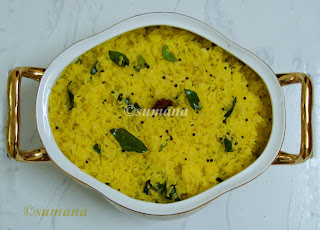 Lemon Rice
Ingredients:
Preparation:
Heat oil in a pan and put red chilli, mustard seeds, curry leaves and chopped green chillies.
Fry till the spluttering stops and remove the red chilli from the pan and keep aside.
Add turmeric powder and remove it from oven.
Add cooked rice, salt, lemon juice and mix well lightly.
Serve in a plate and garnish with fried red chilli.