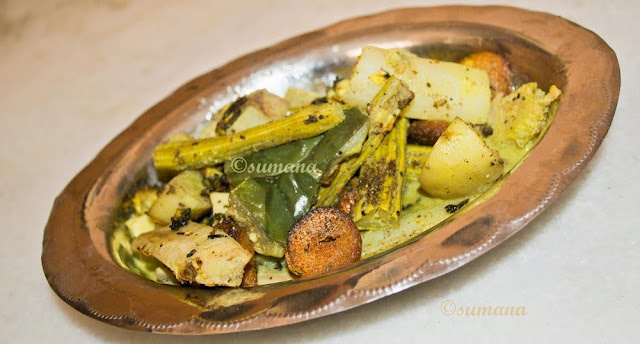 Shukto - Authentic Bengali Dish
Shukto is an authentic Bengali traditional dish. This is served with warm rice at the beginning of the lunch. Any Bengali occasion is incomplete without Shukto.
Ingredients:
Bori (Badiyam, dry small dumplings made from lentil paste)
Preparation:
Cut all vegetables in long pieces (1.5"-2") except bitter gourd. Cut bitter gourd in jullian cut.
Dry roast all seeds and grind them. Keep aside with a lid.
Heat ghee in a wok. Fry the bodiyam (bori) till brown and keep aside.
Fry bitter gourd till golden and keep aside.
Now put all vegetables in wok and stir lightly. Add salt and a pinch of turmeric. Add water and cover with a lid to boil. Along with water you can mix milk also to add to the richness of taste.
After 10-15 minutes when the vegetables are cooked add fried bitter gourd and bodiyam, sugar and keep in high flame for 3-4 minutes.
Now add mustard paste and mix it and keep in high flame for a minute.
Now take out from heat and sprinkle the dry roasted spices.
Before serving mix the spices.
Serve with hot rice.
You can use white oil instead of ghee.