Methi Murg (methi chicken) is an easy to cook side dish. I love this dish with roti or paratha. Learn how to cook this simple yet delicious fenugreek flavoured chicken dish at home.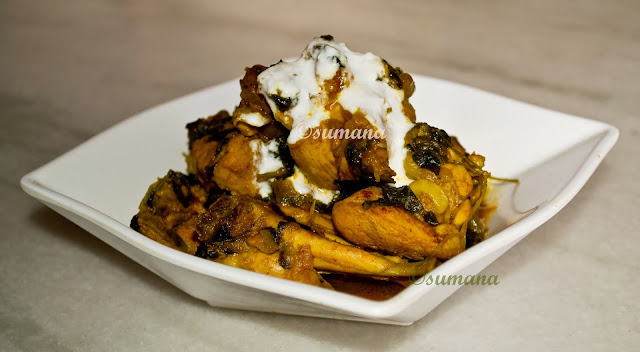 Methi Murg or Methi Chicken
Ingredients:
Chicken – 250 gms
Fresh methi (fenugreek) leaves – 2 handfuls
Fenugreek seeds – 1 tsp
Chopped onion – 2 tbsp
Ginger paste – 1 tsp
Garlic paste - ½ tsp
Chopped tomato – 1 medium
Dry red chilli – 1 pc
Salt
Turmeric powder – 1 tsp
Kashmiri red chilli powder - ½ tsp
White oil – 2 tbsp
Direction:
Heat oil in a pan. Put fenugreek seeds and dry red chilli. After few seconds when the seeds turn brown add chopped onion and sauté it. When the onions look translucent, put ginger–garlic paste and fry it for 1-2 minutes. Then, add chopped tomato. When the tomato becomes soft, add chicken and mix well. Now add turmeric powder, red chilli powder and salt and stir well. When the oil comes out from chicken add fresh methi leaves and mix well. Now add a little bit of water and cover it till the chicken is soft. After 7-8 minutes your methi murg is ready. Serve hot with roti or paratha.